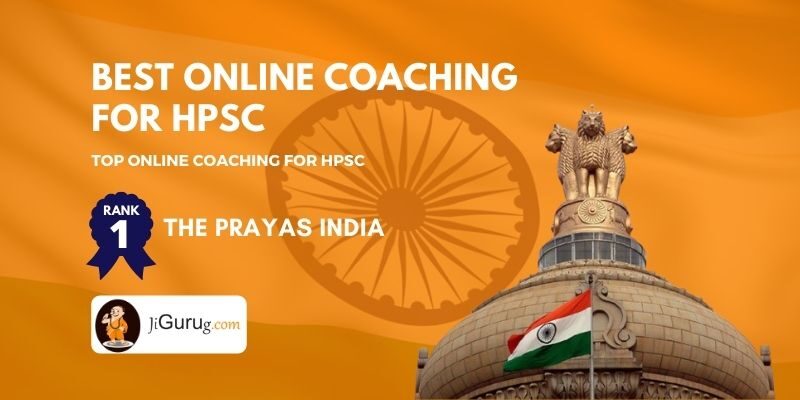 Best Online Coaching for Haryana Public Service Commission Examination
HPSC HCS EXAMINATION
HARYANA PUBLIC SERVICE COMMISSION is a constitutional body that conducts a state level competitive examination for recruitment of officers in different state government services. This examination is known as, HARYANA CIVIL SERVICES Examination that is organized once every year in the offline mode.
The HCS Examination is held in three stages –
PRELIMS
MAINS
INTERVIEW ROUND
Exam language can be selected as English or Hindi.
The services that are recruited from the HCS Examination are –
Haryana Civil Service (Executive Branch)
Deputy Superintendent of Police(D.S.P.)
Excise and Taxation Officer
District Food and Supplies Controller
'A' Class Tehsildar
Assistant Registrar Cooperative Societies
Assistant Excise & Taxation Officer
Block Development & Panchayat Officer
Traffic Manager
District Food & Supplies Officer
Assistant Employment Officer
After IAS officers the next highest posts in the state of Haryana are filled by the successful aspirants of the HPSC HCS Examination and thus it is a very reputable examination and of comparatively higher difficulty and needs a thorough hard work. For your help we have brought the list of the best online coaching for HPSC HCS Examination.
List of Top Online Coaching Institutes For HPSC
Rank 1st Best Online Coaching Institutes for HPSC
The Prayas India – Best Online Coaching For HPSC
The Prayas India is a recognized and respected name in both online and offline coaching. For the safety and convenience of the students in the hard times of the coronavirus pandemic, they have started a good number of online courses including for the HPSC HCS examination. Having grabbed a number of certificates and awards they have proved their mettle and are a good choice for online coaching.
Why choose The Prayas India?
Their e-Pathshala is a great initiative. it provides free lectures and learning material and thus respecting the dreams of students belonging to all economy classes helps them fulfill their goals.
Live lectures are provided so that any doubts, confusions, problems can be sorted hand – in – hand.
A very effective test series is prepared to keep a check on the student and their preparation level.
Their blogs and YouTube channel are just additions to the free study material.
Rank 2nd Top Online Coaching Institutes for HPSC
Unacademy – Online Coaching For HPSC
Unacademy is a big name in the online learning market and they have thrived their way for this success and appreciation with their hard work, consistency and keeping their words.
Why choose Unacademy?
Provide the best faculty. Experienced and expert teachers to impart the best knowledge for strong base preparation.
Online study videos, PDFs, study materials are in abundance and hence no topic remains untouched.
For evaluation purpose, test series, mock test are always ready to track your progress.
Not only theoretical knowledge is imparted but overall personality development is also looked upon.
Rank 3rd Best Online Coaching Institutes for HPSC
GRADEUP – Top Online Coaching Institutes For HPSC
Gradeup is a one-stop destination for complete preparation for any competitive examination.  They believe that preparing smart makes you score better and their study tactics can help you with that.
Why choose Gradeup?
Over-all knowledge of the examination. From what the examination is to the application, admit cared, syllabus, pattern and preparation. The complete responsibility is taken by them happily.
Free video lectures is their strong point and a benefit for the students.
They pay a lot of attention to the preparation through evaluation. Henceforth, they provide a variety of quizzes, test series, mock tests made by experts and available in English and Hindi both.
Live sessions with subject experts are conducted for the much needed guidance.
Rank 4th Top Online Coaching Institutes for HPSC
STUDYIQ – Best Online Coaching For HPSC
StudyIq is a private limited education company. Their objective is to provide aspiring student to study smart from the comfort of their home and achieve their goals. All of their courses are in both the languages Hindi and English.
Why choose StudyIq?
Their Smart courses, Pendrive courses and Android courses lay out variegated options for you to choose from.  You can choose any of these courses that fulfill your needs.
Complete knowledge about and for the exam.
More than enough study materials with no topic left untouched.
Rank 5th Best Online Coaching Centers for HPSC
Mrunal app – Top Online Coaching For HPSC
Mrunal app is and online learning application platform. Their core belief for providing best exam preparation to the students is – 'One test in a day keeps exam fear away.' They advance through – Perform, Analyse and then Improve.
Why the choose Mrunal App?
Free extensive collection of test series.
Re-attempt tests to make sure of complete understanding. Detailed explanation for all answers (not only wrong answers).
Best quality of tests and study material.
Rank 6th Top Online Coaching Centers for HPSC
Chandigarh Study – Best Online Coaching Institutes For HPSC
Chandigarh Study is an online platform that is emerging as the stop for all updates and knowledge about competitive examinations. From about the examinations to the exam pattern, syllabus and how to prepare this platform gives you literally all the information needed.
List of Top Online Coaching Institutes for Other Cities –