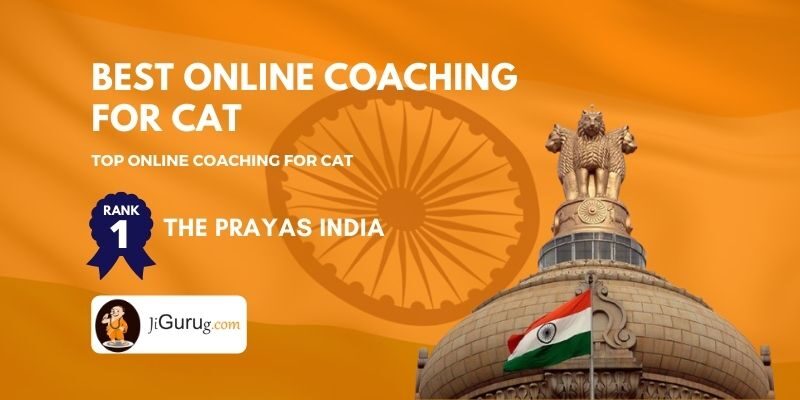 Best Online Coaching For CAT Exam
What is the Common Admission Test?
Common Admission Test also commonly known as CAT Exam is for graduates regarding the management program. It is a computer-based exam. The test has three sections that are:
Verbal Ability and Reading Comprehension
Data Interpretation and Logical Reasoning
Quantitative Ability (QA).
It is a three-hour exam. The test is conducted every year by the IIMs. Students who are interested in this program should have a Bachelor's degree with more than or equal to 50% CGPA. Students in the final year are also eligible for CAT exam. Students are granted +3 points for each correct answer and -1 point for each incorrect answer. The question which is not attempted is not marked.
CAT Exam Day Guidelines
Candidates appearing for the exam must carry the following documents to the exam center to get entry inside the exam hall:
Admit card: Candidates appearing for the CAT 2020 exam must carry they admit cards to the exam center. You will not be allowed entry in case you do not carry your CAT admit card.
Identity Proof: Along with the admit card, candidates are required to carry a photo ID proof such as College ID.
Name change document: In case a candidate changed their name, they will be required to carry a name change degree document.
CAT selection procedure for all the IIMs includes the following:
Screening of aspirants on the basis of their CAT score
Written Ability Test/Group Discussion/Personal Interview (WAT/GD/PI)
Computation of composite score followed by final selection.
Benefits of Online Coaching For CAT 
There are many advantages to online classes :
It cost less.
Easier attendance.
Improve self-discipline
Easier access to students.
Variety of options.
Easier to focus.
List of Top Online Coaching For CAT Exam
Below are mentioned the top online coaching for CAT Exam which students can enroll for the best online CAT coaching.
Rank 1st Top Online Coaching For CAT Exam
The Prayas India – Best Online Coaching For CAT Exam
The Prayas India is one of the best coaching centers with best features for online coaching for the CAT Exam. The Prayas is today acknowledged as a multi-location, multi-program training specialist and offers a wide range of programs like Civil Services i.e. MPSC and UPSC, Banking, Railways, CAT and other entrance examinations. With excellent study materials and amazing teaching methodology, The Prayas is one of the best places to start your preparation. The student not only gets knowledge about courses they join but also the institute provides them with much more.
Features of the Best Online Coaching for CAT Exam
One-on-one mentoring sessions with professional mentors.
24*7 Leader Dashboard.
Live lectures for online CAT preparation.
Comprehensive coverage for CAT 2020.
Regular online tests.
Best specialized Teaching staff.
Personalized mentorship & Motivation
Contact Details
Contact Number – 7710013217, 9892560176
Rank 2nd Best Online Coaching For CAT Exam
online.2iim.com – Online Coaching For CAT Exam
Online.2iim.com is a very famous name in CAT, CMAT, XAT, and other management examinations. Today, it is a treated name among students who are engaged in preparation for management sector recruitment exams like CAT. Lakhs of students have been benefited from online.2iim.com by learning from the best teachers.
Features of the Best Online Coaching for CAT Exam
Comprehensive Online Course available 24 * 7
3 Live Classes are held with CAT 100 Percentiler professionals
Continuous Support from 2IIM Faculty
It also provides Group Discussion and Written Ability Training.
Modules are arranged by them
Each class ends with a Prep Edge test which helps students to judge their progress.
2000+ Online CAT preparation videos.
Contact Details
Contact Number – 7406048484
Rank 3rd Best Online Coaching For CAT Exam
mbauniverse.com – Online Coaching For CAT Exam
mbauniverse.com is a good place to commence online education with the help of good teachers and the students will be able to take up the best courses with the right guidance. The lectures are recorded prior and all students have to do is enroll for the course he/she is interested in.
Features of the Best Online Coaching for CAT Exam
Doubt clearing through live sessions
750+ video tutorials including basic and advanced concepts
Limited batch sizes to 25 students for personalized attention.
Learn 5 complete topics from basics to CAT level for free. These classes are representative of the whole course.
Available full-length mock CAT for free.
Rank 4th Top Online Coaching For CAT Exam
careerlauncher.com – Online Coaching For CAT Exam
Career launcher is Led by a team of highly qualified professionals, including IIT-IIM alumni, with a passion for excellence in education. It offers the best courses with the help of renowned faculty members and they always try to provide great training to all the students without any doubts.
Features of the Best Online Coaching for CAT Exam
45 CAT sectional test
700+ hours of CAT online Coaching content
10000+ CAT Online preparation questions
100+ Live classes
The study materials offered are available in Hindi and English.
Provides updates on current affairs as well and constantly going through the newspapers will help the students to be updated.
Contact Details
Contact Number – 8882120120
Rank 5th Best Online Coaching For CAT Exam
time4education – Online Coaching For CAT Exam
time4education Started in a small room in Hyderabad with one center and now T.I.M.E. has just completed 27 years of service to the student community. T.I.M.E. is today acknowledged as a training specialist. The company is constantly diversifying and entering into new areas. This institute has produced excellent results in the past year. Both a regular course and a crash course are offered to match the different requirements of students. They prepare their students for examination according to the latest exam pattern.
Features of the Best Online Coaching for CAT Exam
Provide the highest quality education for students.
Charge very reasonable fees – without compromising on the quality of inputs that we give.
Act in the best interests of students at all times.
The Live Classes are available for all students.
 Each lesson/video can be viewed as the number of times.
Contact Details
Contact Number – 9911042903
Rank 6th Top Online Coaching For CAT Exam
handakafunda.com – Online Coaching For CAT Exam
handakafunda started in 2009 as a collection of videos. In 2013, they moved on to selling online courses. Their goal has been to change the way students prepare for competitive exams – make it easier. They have experience of nearly a decade in CAT Coaching. The Online CAT Preparation Course contains more than 900 video tutorials covering all the concepts of Quantitative Aptitude, Data Interpretation, Logical Reasoning, Verbal Ability, and Reading Comprehension. They also teach various tricks and tips in reference to the previous year's CAT questions. Moreover, there is a special set of videos based on Vedic Maths that can help students in quick mathematics.
Features of the Best Online Coaching for CAT Exam
Live classes are held once a week in starting of enrollment and increases to two classes a week gradually.
The CAT Online Preparation Course  which is offered by handakafunda consists of  PDFs and documents that are very helpful.
Weekly Live Classes for doubt clarification
Study Material for practice and understanding
CAT Test Series 10 full-length tests
Chats by 100 percentiles, top rankers, and exam experts, exam-oriented quizzes, and contests.
Contact Details
Contact Number – 9982352632
Rank 7th Best Online Coaching For CAT Exam
TestFunda CAT Coaching – Top Online Coaching For MBA
TestFunda provides you a detailed analysis report of your mock test at the topic, section, and overall level which helps you to identify your strengths and weaknesses so you could work on improving them, thus helping you achieve a higher percentile with our CAT online coaching. Mock Tests are taken replicating the actual exam player, with the same scoring process, so that you get experienced and are prepared well for when you have to actually appear for the exam.
Features of the Best Online Coaching for CAT Exam
With exam toppers' insights, expert opinions, focused study plans, guru speak, important news and notifications, and GK.
Get closest to an actual exam. They have an almost guaranteed score improvement tool that is an added advantage and helps to boost student's confidence.
Excellent comprehensive material covering all important concepts in detail. Practice questions based on various levels of difficulty are served.
Ask as many doubts as you want. 24 x 7. Get your doubts answered by exam toppers & experts.
Get proper analysis and detailed reports on important test results. Analyze student's performance, identify their strengths & weaknesses, and maximize their scores.
Get exam-level questions, tips & tricks to help you prepare for the big day. Get that extra edge in your preparation.
Replicate the actual test-taking experience and scoring mechanism to ensure that their students are thoroughly prepared.
Contact Details
Contact number – 9930005544
Rank 8th Online Coaching For MBA Exam
BYJU's Classes – Best Online Coaching For CAT Exam
The BYJU'S offers sessions from India's top CAT trainers along with study material & tests available for online study. The detailed time-based, performance, topic-wise, and LOD analysis ensure a holistic view of every candidate's performance. They also offer special GD preparation including helpful sessions on current affairs, essay writing, and Statement of Purpose sessions post exam results. The BYJU'S CAT Prep Module also helps candidates prepare for other MBA entrances like SNAP, XAT, etc.
Features of the Best Online Coaching for CAT Exam
Get trained by India's NO.1 CAT teachers.
The three-tier course structure ensures multiple revisions, thereby minimizing doubts.
All India MOCK CATS and Sample Papers for other major B-schools' exams included
All modules include extensive preparation for GD-PI and essay writing.
1000 Videos covering the entire CAT portion.
Contact Details
Contact Number – 092413 33666
Rank 9th Best Online Coaching For CAT Exam
Cracku – Best Online Coaching For CAT Exam
Cracku is a company founded in 2014. They provide online coaching and test preparation material for MBA Exams, Banking Exams, SSC, and Railways exams. They provide mocks, videos, notes, solved example sets, topic tests to help students crack these exams. Students who have enrolled for their CAT Complete Package can ask unlimited doubts in all the questions than they solve. All students can also post in Cracku Adda to get their doubts clarified.
Features of the Best Online Coaching for CAT Exam
All mocks, study room, and concept test questions that are provided by them have detailed solutions that help students to know their mistakes and can cure them.
To clear the doubts, regular doubt sessions are also conducted by the institution.
Weekly objective and subjective tests with the preparation level of students.
Each and every topic will be covered without any doubts and the course will allow you to prepare in a better manner.
15,000 Excellent questions
30 MBA non CAT mocks
Contact Details
Contact Number – 91 630 323 9042
Frequently Asked Questions for Top Online Coaching for CAT – 
Q. What are some advantages of learning online?
Ans. Many students are more comfortable engaging in meaningful discussions online than in a classroom. Web-based learning allows instructors to deliver the same content using different media, like videos or simulations, personalizing learning. Moreover, they are easily accessible.  Online instructors can use games, social media, virtual badges, and other engaging technologies to motivate students and enhance learning.
Q. What is the application process of CAT 2020?
Ans.
CAT 2020 Registration
Fill the details
Payment of CAT exam fee.
After filling the application for CAT Exam the candidates will have to pay the required application fees. For General – Rs. 1950 and for SC, ST, OBC, PwD – Rs 950.
Q. Is CAT an online examination?
Ans. CAT is not an online examination. It is a digital or Computer Based Test (CBT); not an Internet-Based Test (IBT); that is, a candidate will not take the examination on an internet site.
Q. What are the fees for CAT Exam at Testfunda?
Ans. At testfunda CAT fee is Rs 12000.
Q. What is the cost of the live online classroom at online.2iim.com?
Ans. It costs Rs 25000 including all the mock tests, live lectures, and many other features.
Q. For how many times is CAT exam held in a year?
Ans. CAT exam is conducted online once every year. The exam is held in two sessions one in the morning and another in the afternoon. The morning session is held from 9 AM to 12 PM and the afternoon session is held between 2 PM and 5 PM.
Q. Is there an age limit to appear in CAT exam?
Ans. No, there is no age limit to appear in the exam. Any candidate who is a graduate or is in the final year of graduation is eligible to apply for CAT.
List of Best Coaching Institutes for Other Cities –