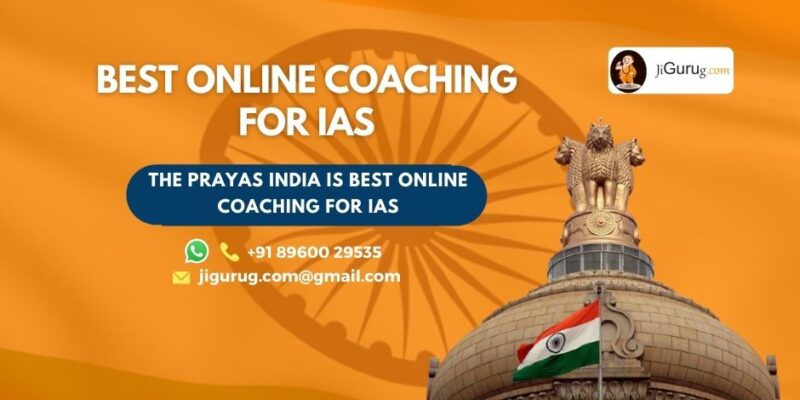 Top Online Coaching for IAS | Top Online UPSC Institutes
The COVID-19 pandemic has kept us all from going out and thus NO TO COACHING CLASSES !!! But to our rescue, we have online coaching classes. For a few years now, the online education business has taken a toll over the normal education style of being physically present at a place, at a particular time, and studying with many other students. Online coaching classes solve all of these problems and in a way, these are you, CUSTOMIZED CLASSES to Best Online IAS Coaching, where you get to decide the time, place, and even the topic. The fact that you get endless repetition and revision classes is just the topping to the cake.
How to prepare Online
The digital platform provides IAS aspirants with a lot of ways to help them prepare for the nationwide competitive examination of utter importance.
A few examples include –
1. Online BOOKS
2. FREE WEBSITES
3. Online COACHING
4. MOCK TESTS
5. COACHING APPS, and many more.
These online platforms provide full-fledged preparation material that could help any hard-working IAS aspirant to crack the most aspired examination in India.
How to prepare yourself for the hard work?
When it comes to cracking the CIVIL SERVICES EXAMINATION, simply referred to as the UPSC EXAMINATION the major need is DISCIPLINE because it will help you to improve yourself mentally and physically are very important factors.
MAKING A TIMETABLE is the first step. Many aspirants clear this step by preparing one but where they fail is the point that we need to keep in mind and work on, it is the EXECUTION OF THE TIME TABLE. Doing what you need to get what you want is the most difficult part of any success journey and for this, you need to motivate and inspire yourself and with this will come giving up of things of less significance like watching a late-night movie, skipping your workout, or giving yourself excuses for not starting the next chapter.
Once, you have conquered these steps you will have a clear mind that is focused on your goal of clearing the Civil Services Examination and this clarity of thoughts will help you to move forward with your hard work journey in a more effective manner. And then, the next step will require you to search for a coaching class.
Keeping in mind the situation that the country and the whole world is going through right now, you will have to look for an online coaching class, and to help you, here is the list of the BEST ONLINE IAS COACHING.
---
List of Best Online Coaching Centers for Union Public Service Commission Examination:
List of Best Online UPSC Examination Coaching Centres
Best Online Coaching for IAS
Rank – 1
The Prayas India
Rank – 2
BYJU's
Rank – 3
Vision IAS
Rank – 4
Shiksha IAS Academy
Rank – 5
Shankar IAS Academy
Rank – 6
Chahal Academy
Rank – 7
Vajiram & Ravi
Rank – 8
Rau's IAS Study Circle
Friends, Here are the complete details of the Top Online Institutions for UPSC Exam Preparation. So, please check it:
Rank 1st – Best Online IAS Coaching – The Prayas India
Strategy – The Prayas India coaching is one of the leading test-prep institutes in current times. The Prayas is today acknowledged as a multi-location, multi-program training specialist and offers a wide range of programs like Civil Services i.e. MPSC and UPSC, Banking, Railways, and other entrance examinations.
The innovation and technology-driven platform make the Prayas leader in its domain. Their program includes- IAS COACHING in ONLINE MODE. Provides informative and useful study material. For regular practice, Online MCQ tests are also available.
Features are – Doubt clearing sessions are arranged on a regular basis. Advanced devising and shortcut circulation. Mock tests are also conducted. Availability of highly experienced and learned employees.
Rank 2nd – Top Online IAS Coaching – BYJU'S THE LEARNING APP
Strategy – BYJU'S THE LEARNING APP is a big name in the online education business. Their online coaching for competitive exams is quite a buzz and ONLINE IAS COACHING is one of their best programs. They assure to provide the best IAS coaching modules.
Their program includes- IAS COACHING -ONLINE MODE – It is free IAS preparation providing complete and comprehensive material needed for UPSC IAS preparation without compromising on quality.
They also provide an IAS PREPARATION TABLET COURSE where the student is provided with a tablet that has all the required preparation material which includes phase-wise tests, module tests, and one-on-one mentoring.
Features of BYJU'S IAS Prep Tablet are –
400+ hours of preloaded lecture videos.
Comprehensive study plan for all the subjects.
250+ chapter-wise tests.
Weekly and monthly special current-affairs module.
Full-length exams stimulating the real exam.
Analysis of dynamic topics and daily news.
Rank 3rd – Online IAS Coaching in India– Vision IAS
Strategy – Vision IAS has proved its mark in the IAS coaching classes market. They provide a varied number of programs for the aspirants. Comprehensive coverage of all the topics for all four papers, mini-tests, daily assignments is the major pointers in their program.
They have a very large section for test series that helps polish the students. Differentiated attention to each student is one of their plus points. They also help the student to enhance their confidence that in turn prepares them for the interview session.
Some pointers about this program-
Provide Personal Guidance- Students are contacted via call, email, or chat to clear doubts and provide motivation to work hard.
Uninterrupted learning – Students can choose the time and place and learn whenever they are uninterrupted.
Regular Self Assessment- Mini tests, regular tutorials, and constant feedback keep the student informed of their strong and weak points.
All India Test Series – Selected students opt for this privilege. These tests provide a real exam-like experience that helps them analyze themselves and their hard work.
Perfect Study-material – Relevant and up-to-date study material is provided.
No Classes missed – All the classes are recorded and thus they can be referred to later if missed or for revision purposes.
Rank 4th – Best Online UPSC Coaching – SHIKSHA IAS ACADEMY
Strategy – SHIKSHA IAS ACADEMY provides a number of modules, courses, and series for online coaching. Here, specialized and digitized classes are concentrated on building an applied information base for the students. Regular study hall tests, full-length test arrangements,s and answer composing meetings are arranged to improve the exactness and time of the executives, at an affordable price. Also, personalized attention to each understudy is provided.
Some of Shiksha Academy's main features are-
It is cost-effective.
Experts are brought in to give feedback.
They emphasize updating the current affairs time-to-time.
Assurance of top-notch study material.
Rank 5th – Top Online UPSC Coaching – SHANKAR IAS ACADEMY
Strategy – SHANKAR IAS ACADEMY has given the country a large number of civil servants and assures to provide the best reference material in INDIA for civil services examination. They have a proven formula of nine elements for IAS success that is 'SIA FOR IAS'.
It stands for Systematic and scientific thinking, In-depth and intensive coaching, Application to question, Focused optional coaching, Optimal personality grooming, Regular tests, Interaction with civil servants, Apt mentoring, and Sculpting your destiny.
About them –
They are India's only coaching class that provides live-2 way communication where the students at home can enjoy classroom ambiance and interact with the faculty in real-time.
Arranging doubt clearing sessions on a regular basis.
Weekly and monthly tests, mock tests, and free interviews help in the constant tracking of self-evaluation.
Rank 6th – Online IAS Coaching – CHAHAL ACADEMY
Strategy – CHAHAL ACADEMY provides online IAS coaching from India's top mentors anywhere and anytime! They provide a large number of test series, preparation courses, and modules. The online course is super-affordable, cost-effective, and comparatively cheaper but there is no compromise when it comes to quality. Personal attention is provided to students and classes are focused on creating a conceptual knowledge base for the students.
Their plus points –
They provide detailed topic-wise coverage of the UPSC CSE examination.
Notes are shared in PDF form for revision.
The classes can be rescheduled anywhere and anytime.
They provide well-structured courses that assure results.
Rank 7th – Best IAS Online Coaching – VAJIRAM & RAVI
Strategy – VAJIRAM & RAVI is a renowned IAS coaching academy that provides very many classroom courses, test series, postal courses, and interview guidance. They provide the perfect expert guidance that every aspirant requires. Their interview guidance works on complete personality development and confidence up the boost.
All about them –
The experienced faculty create a strong foundation.
Their doubt discussion and answering questions motivates the students to work harder.
They guide IAS aspirants from scratch and teach them every aspect of the Civil Services Examination.
They organize a number of objective-type tests and answer writing tests to prepare the students for the actual test.
Rank 8th – Top IAS Online Coaching – RAU'S IAS STUDY CIRCLE
Strategy – RAU'S IAS STUDY CIRCLE has created a complete division for E-learning. RAU'S IAS E- Learn uses weekly videos and notes on specific themes. They keep in mind to add contemporary and current issues from all sources important for the exam.
They keep MCQs, main tests, and answer writing after every video that helps students to brush up. All submitted answers are evaluated. They believe that the main objective is to develop learning tools to make preparation easier. Attention is provided that the student's test-taking skills are improved.
The forms of learning tools that they use are video lessons, self-study materials, tests, and test discussions.
Why choose them –
They provide continuous learning and update through current affairs analysis
Methodical revision of the core syllabus of GS is taken care of.
They intend to make the students clear the examination in the first attempt.
Preparation for CSE examination during COVID – 19
The COVID-19 entered our lives like a storm and very easily took away a lot of privileges from us that include going out to schools, colleges, and coaching centers. But we humans strive for solutions and nothing can stop us if we are persevering.
For all IAS aspirants, this time is both good and bad. On one hand, they are free from the burden of other daily works of going to college or work or whatsoever may it be and they can completely focus on their studies but there are times when they feel like they could have been in a coaching class and could ask a question to the faculty.
NO WORRIES !!! These problems are solved by the mentioned ONLINE IAS COACHING CLASSES. They provide all the facilities to provide an In-Classroom-like feel and teaching thus solving all your problems and washing off all your worries.
One thing still to keep in mind is to take care of yourself. Avoid going out if not necessary, and if you have to do not miss the precautions before and after going out.
WISHING ALL THE VERY BEST TO ALL THE ASPIRANTS
STAY SAFE, STAY HEALTHY!
List of Top Coaching Institutes in Other Cities –