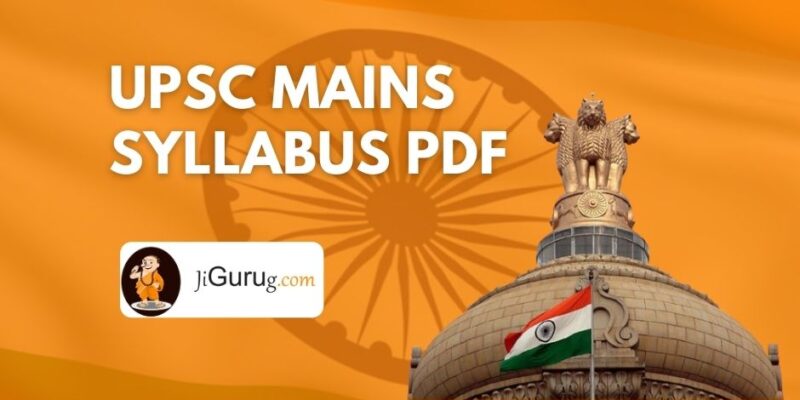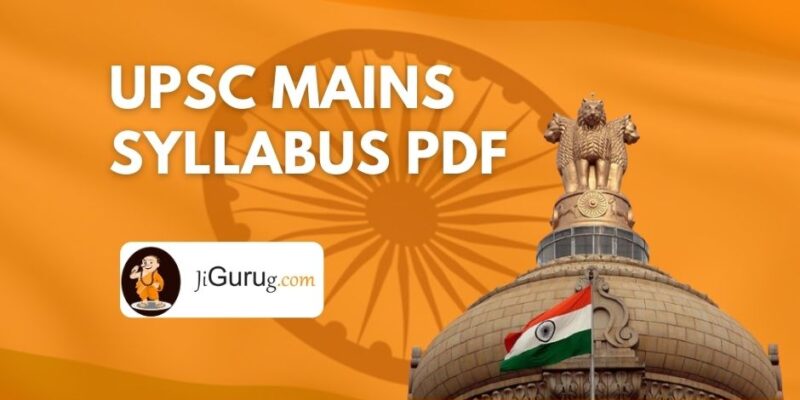 UPSC Mains Syllabus PDF 2020 – IAS Mains Paper & Subjects
The main exam is conducted for the students who crack the UPSC preliminary exam. The exam is intended to evaluate the academic expertise and the comprehensive ability of each and every candidate who takes up the exam. Unlike the preliminary exam, the mains exam is descriptive and it is essential for the students to prepare extremely well. When it comes to the IAS mains exam, there are totally of nine papers. Among those, seven papers will take place in the final merit list while the remaining papers English and other Indian language is a qualifying paper and candidates should get at least 25% or above to get selected. You will find the UPSC mains syllabus below and it is easier for you to finish the learning in no time. 
To get selected for the mains exam, it is essential for the candidates to clear the first stage of UPSC exam with more marks specially above cutoff marks will definitely make it to the mains. The preliminary exam is all about objective type questions but the mains exam requires you to analyse and understand the topics in a better way that helps you to elucidate exceptionally well.
The main aim of the civil services exam is to evaluate the candidate's intellectual capacity that will be displayed in their descriptive answers in a particular time schedule. You can download UPSC Mains Syllabus PDF before starting the preparations 
UPSC mains subjects
Paper A compulsory language
The first subject in the UPSC mains exam is the modern Indian language. The total mark is 300 but they are not taken in the merit list but candidates have to pass the exam for attending the next round of interviews. In general, you will have to prepare in your native language and a few things like an essay, precis writing, comprehension translation, and vocabulary for the few aspects that will be evaluated. The language paper will be based on matriculation or equivalent standard board. UPSC Mains Syllabus PDF format download will help you to wrap up the exams with the help of quality study materials. 
Paper B English Language 
This paper is not counted for the merit list but passing is compulsory. You have to be practicing writing essay vocabulary and comprehension. These are the aspects that will be evaluated in the exam. 

If you are not scoring above 25%, then it is not possible for you to go to the next round even if you get a pass in all the other subjects. Both the papers have the same pattern and it is easier for the students to prepare. 

Firstly, you have to answer grammar and other rudimentary language checks like meanings evaluating the sentence formation and more. You will be gaining 40 marks from this section.

Translation from English to your native language and vice versa will be awarded 20 marks. This section will be in both the paper.

You will be awarded 60 marks for Precis writing.The answer sheet will comprise of a particular place where you can fill the answer of yours..

Reading comprehension and related questions will be awarded 60 marks and students can acquire the maximum marks in this section.

One section which has the maximum weightage of Mark is the essay section and you will be allotted 100 marks. You can choose a topic that interests you and elucidate your answer in a way that impresses the examiner.
Essay
This is one of the important parts in the UPSC mains exam and you will get 250 marks for this section. For this subject, there is no special syllabus as the question will be random and it is essential for the students to express their views without any influence. Candidates are supposed to write two essays for 250 marks. UPSC Mains Syllabus PDF will contain detailed information about the topics that are commonly asked topics in Essay section. 
General studies paper 1
The below given important topics are essential for your preparation.From ancient to modern time, the Indian cultures' striking features of art forms literature and architecture. 
Modern Indian history 
Historical events, problems and personality during the eighteenth century. 

Moreover, the diverse faces of contributors and contributions in several parts of India during the freedom struggle.

Post-independence and reorganization is also discussed. 
History of the world
This part comprises significant events that occurred in the 18th century. To name a few industrial revolutions, world war and more topics that transformed the society will be included under this section. 

You should also learn about the special characteristics of Indian society under the diversity of India.

An important section is the role of women and women's organisations along with problems linked to the same topic such as poverty urbanization, developmental issues, and their solution.

You should also learn the striking features of the geography of the world and globalization effects in Indian society.

Learn how natural resources are distributed across the globe. It is essential to know the aspects that are cause for the primary secondary and tertiary industries in various locations around the world and you have to to learn particularly in India as well. You can make use of UPSC Mains Syllabus PDF  to track the subjects in a proper way as the UPSC syllabus is vast, you might miss important topics. 
General studies 2 paper 
This subject is more  into constitution Polity, Governance, International relations and social justice.
The evolution features amendments and important provisions along with the basic structure of the Indian constitution. 

You should also address the roles and responsibilities of union and States.

The power separation between diverse organs disputes redressal mechanisms.

It is also essential to learn the difference between Indian constitutional schemes and other countries. 

The structure conducts business functioning powers and privileges of the parliament and state legislature. 

Judicial ministries departments of the government structure functioning and organisation should be learnt. Their role and responsibility in the polity should also be part of your preparation.

Features of representation of people's act is one important topic that you should not skip. 

Government policies and interventions for development in different categories and problems developed due to the plan and executing the same. 

Development progress and the role of Nongovernmental Organisation in the Development Industry under various groups organization charities Donalds and stakeholders. 
The objectives of Public Distribution System which includes 
Functions 

Limitations 

Revamping 

Buffer stocks issues 

Food Security 

Technology Missions 

Animal rearing Economics 
Food processing and relevant sectors in the country 

Scope and importance 

Location 

Upstream and downstream needs 

Supply chain management

Land reforms in India

Effects of liberalization on the economy
Transformation in industrial policy and their consequences on industrial development.
Infrastructure

Energy

Ports

Roads

Airports

Railways
Science and Technology
Growth and their applications and effects in daily life 

Accomplishments of Indians in science & technology

Primitives of technology and growth of innovative technology.

Awareness in the IT fields, Space, Computers, robotics, nano-technology, bio-technology and Concerns relating to Rational property rights.

Conservation

Environmental pollution 

Degradation

Environmental impact assessment 
Disaster and disaster management.
Linkages between development and spread of extremism.

Role of external state and non-state actors in making alterations to regional protection.

Communication networks

Role of media and social networking sites

Basics of cyber security

Money-laundering and its prevention

Security challenges and their management in border areas

Linkages of organized crime with terrorism

Various Security forces
To know more in detail about the General Studies 3 Paper, you can refer the UPSC Mains Syllabus PDF format that will give you precise idea of the syllabus.
 General Studies 4 paper
It includes Ethics, Integrity, and Aptitude are the common chapters that evaluate the candidate's attitude and approach. Integrity, Probity in public life and providing proper elucidation to the concerning problems and conflicts. Queries may be provided 
This paper is mainly to evaluate the aspirants and it will have queries to test the candidates' attitude and wayto concerns associating to sincerity, uprightnessin public life and his problem-solving strategy to multiple concerns and disputes encountered by him in dealing with culture. Queries may utilize the case study approach to determine these aspects.The subsequent parts will also be completed.
 Ethics and Human Interface

 Essence

Determinants and consequences of Ethics in human actions

Dimensions of ethics

Ethics in private and public relationships.
Human Values includes the experiences that people had in their lives. 
Great leaders, reformers and administrators life teachings are included.  The role of family, society and educational institutions in infusing the values. Attitude comprises content, structure, function and the impact created with thought and behavior; moral and political attitudes; social influence and persuasion.
Aptitude and foundational values for Civil Service 

Integrity

Impartiality and non-partisanship

Objectivity

Dedication to public service

Empathy

Tolerance and compassion towards the weaker-sections. 

Emotional intelligence-concepts, and their tools and application in administration and governance. 

Participation of virtuous scholars and philosophers from India and across the globe. 

Public/Civil service ethics 
Ethics in Public administration
Status and problems

Ethical affairs and predicaments in government and individual organizations.

Laws, rules, regulations and conscience 
Probity in Governance
Concept of public service

Philosophical basis of governance and probity

Information sharing and transparency in government

Right to Information

Codes of Ethics

Codes of Conduct

Citizen's Charters

Work culture

Quality of service delivery

Utilization of public funds

Challenges of corruption
Optional Subjects
Paper 6 and Paper 7 are Optional Subjects which altogether gives five hundred marks. You have to choose any one subject for Paper 6 and Paper 7 and these are called optional subjects. Most people will select the subjects that are easy or the subject that is relevant to their domain in educational qualification. By selecting an easier subject, you can score marks which gives you an edge over other students. 
Agriculture

Animal Husbandry and Veterinary Science

Anthropology

Botany

Chemistry

Civil Engineering

Commerce and Accountancy

Economics

Electrical Engineering

 Geography

 Geology

 History

 Law

 Management

 Mathematics

 Mechanical Engineering

 Medical Science

 Philosophy

 Physics

 Political Science and International Relations

 Psychology

 Public Administration

 Sociology

 Statistics 

Zoology.

Assamese

 Bengali

 Bodo

 Dogri

 Gujarati

 Hindi

 Kannada

 Kashmiri

 Konkani

 Maithili

 Malayalam

 Manipuri

 Marathi

 Nepali

 Odia

 Punjabi

 Sanskrit

 Santhali

Sindhi

 Tamil

 Telugu

Urdu 

English.
There are totally of forty-eight subjects from which you can mark two subjects as optional subjects. Try to acquire the maximum marks out of five hundred.
The IAS Mains exam syllabus is vast and the question paper comprises of many topics which include both static syllabus questions and dynamic queries from current affairs. You have to prepare well with the materials available for the Mains exam preparations. It is all about your preparations. You need to concentrate on the subjects.
Frequently Asked Questions regards UPSC Mains Syllabus
Ques. How can I read books for UPSC mains?
Ans. You can easily read the books of NCERT from the 6th standard to the 12th standard precisely. Moreover, students can learn other important books by famous authors. Since the Main exams are of descriptive papers, you should be very careful while preparing for the exams, and answer writing practice is a must.
Ques. Can I clear UPSC mains in 3 months?
Ans. You need an ample amount of time to clear the UPSC Mains exams and students require the best books. Three months is a shorter period and you can still finish the preparations by leaving several chapters behind which is not suggest. Take at least a solid five to six months time for better preparations.
Ques. Are Ncert books enough for UPSC mains?
Ans. Yes, you can also utilize the renowned authors' books when there is more time and you will get to have a better preparation. So candidates should be very particular in choosing the books as they are the nitty-gritty in your preparations.
Ques. Which optional subjects have the highest success rate in the IAS/UPSC exam?
Ans. Agriculture have the highest success rate succeeded by Medical Science, Animal husbandry and veterinary science, Economics, Psychology, Anthropology and Public administration. Geography is selected by the most of the candidates followed by History, Public Administration, Sociology, Philosophy, Political Science and Psychology.
List of Top Coaching Institutes in Other Cities –
List of Best Coaching Institutes in Others-