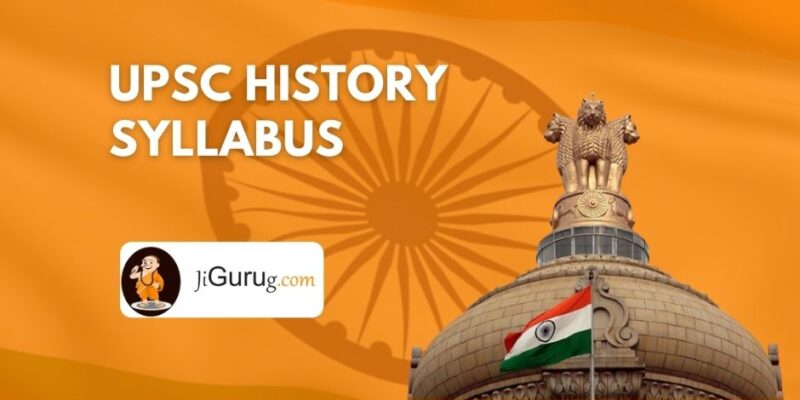 UPSC History Syllabus – IAS Exam (CSE) Optional Syllabus
When it comes to the History syllabus for the UPSC exam, you have to complete the preparation for preliminary exams and the main exam as well. If you are preparing for the UPSC preliminary exam, many History portions play a main role and it is also a part of the UPSC mains exam. General studies paper 1 comprises a History portion. Although History is considered interesting to read by many candidates, a few candidates are not that much interested in reading History.
However, it is important for the students to make use of an easy subject to score more. History helps us to connect with the ancient times and relive the past by reading the astonishing victorious moments of great leaders and people who lived before in the same land that we are living. There are a lot of things to explore in history and using the right strategy, History can be made more interesting than other subjects. You will get to know about the UPSC General Studies papers History syllabus. It is quite a vast syllabus in the main exams. Here you will get to know about the History syllabus.
You might have a lot of questions about where to study, how to complete the History subject for UPSC preparation? and more. The best solution is planning and analysing how much weightage is given to each and every topic of History subject.
On the whole nearly 20% weightage is given to History subject, so you can plan accordingly. Modern History is one subject which is given way too much importance so it is essential to you invest time in reading modern ancient and mediaeval history.
Three main parts of History
Ancient India
Medieval India
Modern India.
Modern India
First off, let us know about Modern India. In modern history we will see about the foreign power in India and till the freedom struggle. Nearly 10 marks have been allotted in the previous question papers and it varies from 5 to 10.
Again Modern India can be divided into several parts touching the foreign powers rise in the country, establishment of East India company and other relevant events, British government and its policies and finally the freedom struggle and independence.
Being one of the significant parts of History, Modern India is one part that students have to concentrate more. You will find a lot of movements like Civil Disobedience Movement, Quit India movement and more.
While studying them, you have to understand what is the root cause of the movement and what is the ultimate purpose of the movement as well. You have to remember the notable people who were there in the movement who led the movement. A brief info about the freedom fighters or renowned personalities who contributed for the moment can be highlighted. Finally the consequences of the movement can also be addressed.
When you read about types of administration, it is essential to put more concentration on the Mughals rule.The British rule is also important which includes permanent settlement subsidiary alliance and more.
While going through the colonial rule of India, you need to focus on the political and administrative organisation, British India policies systems followed and the permanent settlements and other important movements that occurred during the British period.
Religious and social reform movements have given more importance and students have to study from 1800 AD 1947 AD. Rationalism, humanism and universalism needs more focus. Reform movements can also be playing an important role in your preparation and the chronology of these movements has to be jotted down for clear preparation and revision when you finish the subject. While preparing this, it is essential to put light on the reforms that broke stereotypes like status of women and caste system.
Another important section to read is the famous personalities such as Mahatma Gandhi, Subhash Chandra Bose, Dr BR Ambedkar, Bal Gangadhar Tilak, Bhagat Singh and many famous people who contributed more for the society.
Preparing for ancient history
Here is everything you need to know about ancient History based on the preliminary exams. It starts in the 8th century and the topics given below are important to prepare for the UPSC preliminary exam.
When it comes to the prehistoric period you have to give importance to the below topics.
Stone age
Paleolithic age
Mesolithic age
Neolithic age
Chalcolithic age
These are the important topics that you have to focus on while preparing for the prehistoric period. You will know about how early humans lived.
Indus valley civilization and Harappan civilization is yet another topic that you have to follow up. You need to know how agriculture, social economic trade, and religious activities took place during the Indus valley civilization. Harappa and mohenjo-daro are important sites that you need to know in detail. You need to know how civilization flourished and the decline of civilization is also important to learn.
You have to make use of Vedas, Puranas, Upanishad, and other systems of philosophy from the Vedic time. you need to focus on the gods worshipped during the early and later Vedic society. You have to distinguish the difference between the lifestyle of people belonging to these two different societies.
Buddhism and Jainism are yet another topic that needs more focus while preparing for ancient history. You need to emphasize the growth of religious movements. It is also essential to highlight the beliefs of Mahavira and Buddha. Also, you need to highlight the types of Buddhism and two sects of Jainism as well.
The last and final topic is the kingdoms and empires that were famous during the ancient period. Notable rulers like Chandragupta Maurya, Ashoka, and there were so many rulers who you need to focus on and learn. Literary works, science and technology that are very famous during this period are also important. You can conclude the preparation by learning about the decline of the empires.
Medieval India
Medieval India has focused on two topics: religious movements and rulers or empires. If you see the religious moment, you will find important movements like Sufi, Bhakti and saints. It is hard to remember each and every name of the rulers as there were countless rulers across the country so it is better to remember only important rulers.
Books for Ancient India
You can read ancient India NCERT history books of class 6 and 11.
Books for medieval India
You can make use of the NCERT books class 11,6,9 and 10.
Other books to refer for Indian history
Rs Sharma India's ancient past
A brief history of modern India by spectrum
India struggles for independence by Bipin Chandra
How to study for UPSC history?
If you are confused about where to start for the History preparation then you can make use of the below information.
You can utilize many top IAS coaching centers across the country and kick start your classroom program. It will help you to finish the UPSC preliminary exams and UPSC mains.
A few institutes will let students who cleared the entrance exam especially conducted for the candidates whereas the study materials are available for everyone and students can utilize the online learning resources easily. From general studies to mains, you can acquire any online UPSC material from several digital platforms.
The test series is yet another important aspect that will help you to do extremely well in the civil services examination. You can make use of the test series to focus not only on history but all the chapters in the civil services exam.
You should keep yourself updated about world history, economy, electrical system, and other information that will be required for best learning. Whether it is national or international affairs, you have to regularly keep yourself posted about the current situation across the globe.
A few tips to prepare well for UPSC history
If you are preparing for History, then you can use the study materials provided by any institute or make use of the online sources to gather all the study materials, question papers and more.
Test series for Civil service prelims and mains are provided and you can take up the tests to do exceptionally well in the exams.
These are the tips that you have to utilize when it comes to preparing for the UPSC history syllabus. It is essential for every student to make use of the online study materials, test series, and other features that will be helpful to prepare for the examination.
Gear up for the examination and prepare well to acquire good marks in the upcoming UPSC civil services exam. For any information, you can always check out our web pages which incorporate all the information available and our guidance will definitely help you to do exceptionally well in the UPSC examination. It might seem a difficult phase to complete but right guidance and consistency can take you to places that you've always wanted to be in. We wish you success in your UPSC preparation!!!
List of Top Coaching Institutes in Other Cities –
List of Best Coaching Institutes in Others-