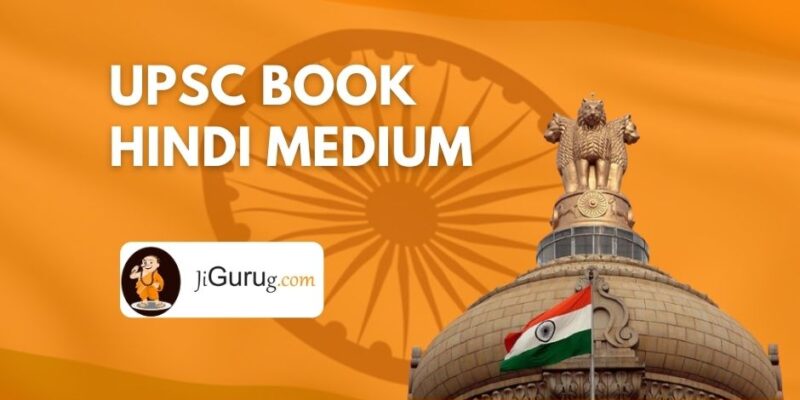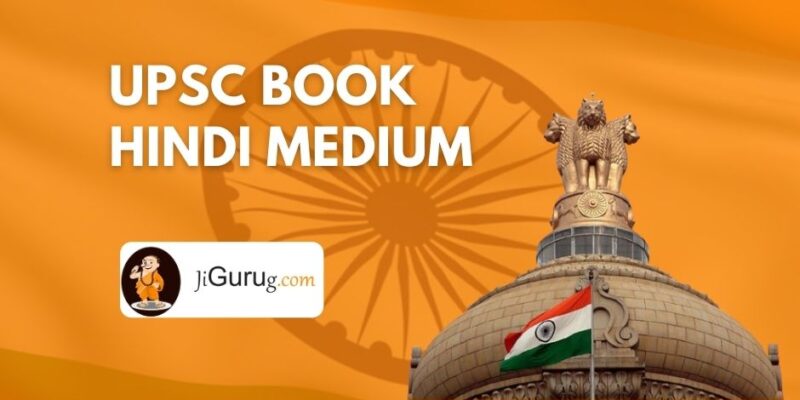 UPSC Book Hindi Medium – Best IAS Syllabus Book List PDF
The UPSC candidates have different options to write the exams. You can choose one language from the list of languages in the Indian Constitution's eighth schedule. Numerous candidates go for the English language, but some candidates will prefer the Hindi language. The biggest concern in choosing the native language is the availability of the sources. UPSC Prelims books in Hindi are available, but the candidates are not sure which book to choose.
Choosing the right book for the preparation has been challenging for the students as there are countless options for them. From online resources to offline hard copies, the more options in hand, the more challenging selection becomes. If you are still wondering about the right book choices that will let you prepare exceptionally well, then you can make use of the below article.
There may be so many books out there, but we have picked the most efficient books that have been used by the toppers previously. The books we have specified are not just bound to a few, and you have a lot of choices based on the reading choices, simple language, and in-depth analysis of specific topics. So, now it's all your choice to pick the right books for your preparations.
The books that are listed below can help both UPSC Prelims and Mains preparing students. First off, go through the information and check whether the books are best for you.
UPSC Book Hindi Medium
You have to initiate the IAS preparations with the help of NCERT books, and it can be Hindi medium, and a minimum of thirty-five books will come in handy for UPSC exam preparation. These books will help you to get a basic understanding of all the topics. Whether you have a little knowledge of the issues before or starting new, the NCERT books are the best for any aspirants.
UPSC Book Hindi Medium – History
Indian History Books like Madhyakaleen Bharat: Rajniti, Samaj Aur Sanskriti, Prarambhik Bharat Ka Parichay, Spectrum's Adhunik Bharat Ka Etihad, Vipan Chandra's Adhunik Bharat Ka Etihad, Bipan Chandra's Bharat Ka Rashtria Aandolan, Bharatiya Kala, Sanskriti Evam Virasat: Civil Sewa Pariksha Hetu. You can utilize the books mentioned above for better preparations, and candidates should take notes regularly for last time's preparations.
UPSC Book Hindi Medium – Geography
Geography Books like Spectrum's Bhugol, B Bharat Ka Bhugol, Orient Blackswan Vishwa Atlas Laghu Sankaran, Hussain's Bharat Evam Vishwa Ka Bhugol are essential books that you can't ignore while preparing for the UPSC exams. The books are helping several IAS aspirants who chose Hindi as the medium of language.
UPSC Book Hindi Medium – Indian Polity
When it comes to Indian Polity, there are several books by renowned authors Laxmi Kanth, Ramesh Singh, and more. M. Laxmi Kanth's Bharat Ki Rajvyavastha, D. D. Basu's Bharat Ka Samvidhan: Ek Parichaya and Kashyap S's Hamari Sansad for in-depth analysis. If you are interested to learn in-depth, then you can make use of the above specified books.
UPSC Book Hindi Medium – Economy
If you are starting out Economy preparations, then you have to refer to books like Oxford University Press's Paryavaran Evam Paristhitiki and Ramesh Singh's Bhartiya Arthvyavastha. These books are exceptional for UPSC preparations, and candidates can learn well with the help of high-quality books.
UPSC Book Hindi Medium – Environment
If you are ready to initiate learning Environment Books, then it better to go for Spectrum's Vigyan Avum Prodhogyki and Vigyan Evam Prodhyogiki Ka Vikas are the best books that you can ever use for the UPSC preparations.
For Prelims Paper I and II, you can make use of Mc Graw Hill's Samanya Adhyayan and also utilize the UPSC Samanya Adhyayan with ten practice sets for paper. You can choose 23 Varsh Samanya Adyayan, which will let you use the CSAT. IAS Mains Samanya Adhyan Adhyaywar Hal Prashan Patra (1997-2016) and other general knowledge books are essential for exemplary UPSC preparations.
Lucent's Samanya Gyan, Vastunisth Samanya Gyan Adhyaywar 6250+ Prashno Ka Aadwitiya Sangrah, and Samanya Gyan 2018 adds value to your learning as they inculcate many important study materials that you require for better IAS preparations.
Books that are essential for UPSC preparations 
 Ram Sharan Sharma's Prarambhik Bharat Ka Parichay
Satish Chandra's Madhyakaleen Bharat – Rajniti, Samaj Aur Sanskriti
Bipan Chandra's Bharat Ka Rashtria Aandolan
Rajiv Ahir's Adhunik Bharat Ka Itihas
Meenakshi Kant's Bharatiya Kala, Sanskriti Evam Virasat: Civil Sewa Pariksha Hetu by
Ram Chandra Guha's Bharat: Gandhi Ke Baad by
Arjun Dev's Samkaleen Vishwa Ka Itihas
Lakshmikanth's Bharat Ki Rajvyavastha
DD Basu's Bharat Ka Samvidhan: Ek Parichaya
 Subhash Kashyap's Hamari Sansad
VN Khanna's Bharat Ki Videsh Niti
Spectrum's Bharat Ka Bhugol
Majid Hussain's Bharat Evam Viswa Ka Bhugol and Bhautik Bhugol
Ramesh Singh's Bhartiya Arthvyavastha
Sheelwant Singh's Vigyan Evam Prodhyogiki Ka Vikas
Ashok Kumar's Bharat Ki Aantrik Suraksha Aur Mukhya Chunautiyan
A few things to keep in mind while choosing the UPSC Hindi medium books.
You don't have to go through innumerable UPSC Hindi medium books for scoring high marks in the exams. At the same time, you can not choose only one resource and follow that source exclusively until the last leg of preparations. This may work in other exams, but candidates should check out more books when it comes to UPSC exams. When it comes to UPSC preparations, you have a lot to read, starting from the historical moments to the trending news that happened a day ago. Developing your knowledge on various subjects is equally important for the candidates. If you are interested in reading, then make use of innumerable study resources so that you can prepare exceptionally well. We have specified the books that are suggested by toppers, who scored more marks in the History of UPSC exams.
The study resources are available on the internet, and they are more. You have to make use of the information available for better learning. It is better to choose a reliable source and read reviews about the study materials before you purchase them. No matter what, you shouldn't ignore the NCERT books at any cost. You can make use of books for studying in-depth. When you check out the UPSC syllabus, you will find the important which are altogether called the UPSC syllabus. However, there is no specifications for the particular books that you have to make use of. It makes IAS exams challenging, as all you know is the UPSC syllabus that is a few topics. Above all, the topics in the UPSC syllabus are extensive, and it is hard to learn all the information about UPSC exams. For instance, History is a vast topic that includes everything that happened in the past, and it is bound to three categories, Ancient, medieval and Modern History of India. You have to search for the UPSC Hindi medium books for better preparations.
One of the essential things in preparing for the UPSC exam is time and you have to plan as per the time available for your IAS preparations. If you have more time, then you can start the with the best books. Otherwise, you have to utilize only the best books available for the UPSC preparations. Also, plan your schedule after choosing the books. The book requirement is totally based on the time you have. Moreover, the confidence level is also counted and you have to ensure that you dedicate all your time for IAS preparations.
UPSC Book Hindi Medium – Current Affairs
The books listed above are preferred by candidates preparing for the IAS and other UPSC exams. These UPSC books in Hindi are helpful for both Prelims and Mains stage of the CSE. Apart from the above list, a candidate should also prepare for the Current Affairs part of the UPSC exam by using the below specified exams.
Lucent's Samanya Gyan, Manorama Year Book 2019, Bharat 2020, IGNOU books, Yojana magazine and other important current affairs magazines can be of great help. Ensure you learn from the books regularly to keep yourself updated.
Books play a crucial role in your IAS preparations, and they are an essential part of learning all through your life. Indeed, books are man's best friends. So you can utilize the best books for UPSC preparations that we have mentioned above. You can either buy the paperbacks or go for ebooks. You can download the PDF format of the books from a reliable resource and start the preparations. Being an essential element in the IAS preparations, UPSC Hindi medium books are really helpful. Moreover, you can also use the magazines for getting more marks, and if you check out the previous year question papers, you will understand the importance of learning the current affairs. It is suggested to utilize the current affairs of one year, and it will be helpful for you to score the marks you've always wanted to gain. For every student, the learning methodology will be different, so are the books. It is not mandatory to choose only one author and follow the books devotedly. You can utilize any books that you want for UPSC preparations without any doubts.
UPSC Hindi Aspirants
Hindi is chosen by most of the candidates after English when it comes to the Civil Services Exam. Moreover, Hindi is also selected as the optional subject UPSC Mains exam. Apart from this, the candidates should choose any one Indian language as a compulsory paper. The study materials that are specified above will be helpful for your IAS preparations, but there are many books that come handy while preparing for your IAS exams. If you are interested in learning, then explore the internet to find more study materials that will boost your learning by several notches. If you are choosing Hindi medium as medium and as an optional subject, then it is suggested to learn the Hindi literature syllabus for UPSC exams.
List of Best Coaching Institutes in Others-
List of Top Coaching Institutes in Other Cities –