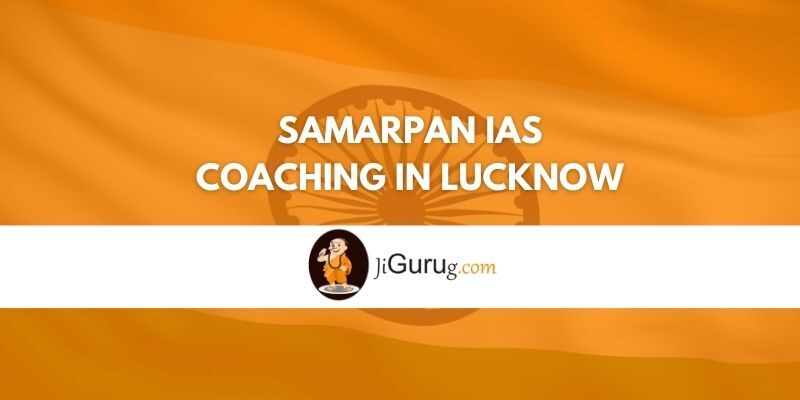 Samarpan IAS Coaching in Lucknow Review
Samarpan IAS Coaching Course Offered – UPSC & IAS Coaching
Samarpan IAS Coaching is one of Lucknow 's top IAS Coaching Institutes. Samarpan IAS Coaching focuses on the growth of a student's competitive attitude. It's one of Lucknow 's finest IAS Coaching Institutes. It is a responsible task for one to complete to pick a location for your bright work. And your perfect choice for your IAS career will be this academy.
The Academy provides students from different levels of society with inexpensive and quality coaching. Online courses are offered by the Academy. To provide the aspirants with a competitive advantage by sufficient advice and encouragement to counter competition at all stages of the evaluation of civil services.
Doubt sessions are also held after the lecture. When you choose the best institute for your coaching, you will surely achieve the great success in your life, this institute will be the best institute to start your coaching with the help of this institute and you will reach the great height in your life. Choosing the institute is the must for government exams.
Samarpan IAS Coaching Contact Details – 
Address: C-14, near Midland Health Care Sector C, Mahanagar Extension 350 Meters from Kapoorthala Crossing, Uttar Pradesh 226006
Contact number: 096950 96561
Email: [email protected]
Features of  Samarpan IAS Coaching in Lucknow –
Fee structure: 18 month compulsory subject 40,000 and optional 25,000
Batch size:  40 students
Faculty: Bhola singh 15 year experience , Sanjay gupta all faulty is ias qualified
Past year result: Shraddha Sandilya, Roshni Yadav, Prashant Singh, Abhishek Singh
Benefits of Samarpan IAS Coaching in Lucknow—
The climate is very cool at Samarpan IAS Coaching in Lucknow. Students have said that studying here is an experience. Without fear, and you can ask questions and enjoy the process.
At Samarpan IAS Coaching, study materials are also fine.
Teaching at this institution is carried out by highly trained and skilled experts who will assist you in every way possible.
Free demo classes are offered by Samarpan IAS Coaching.
Samarpan IAS Coaching has also conducted online classes.
Reviews of Samarpan IAS Coaching in Lucknow
Kanhaiya Jha: Excellent faculty teacher with focused teaching techniques makes this institute one of the best coaching for civil service exam in Lucknow. So I strongly suggest to visit and attend at least one demo class.
Frequently Asked Questions About Samarpan IAS Coaching in Lucknow:
Q. What is the pros of Samarpan IAS Coaching?
Ans. PROS
Best Batch Size
Good Infrastructure
The faculties are always available to solve any of our queries
At Affordable Fee Provided
Get Free DEMO Class
Q. How is Study Material of  Samarpan IAS Coaching Lucknow?
Ans. Samarpan IAS Coaching Lucknow provides aspirants with research materials and offline test series to research for civil services. Study materials are not popular with students. It is unauthentic and has not been revised. As per the Google reviews, this institution does not provide aspirants with an online test series.
Q. What is the Complete Review and Ratings of the Samarpan IAS Coaching?
Ans. All previous / passed-out students and teachers offered positive reviews and student testimonials.
List of Best Coaching Institutes in Others-
List of Top Coaching Institutes in Other Cities –