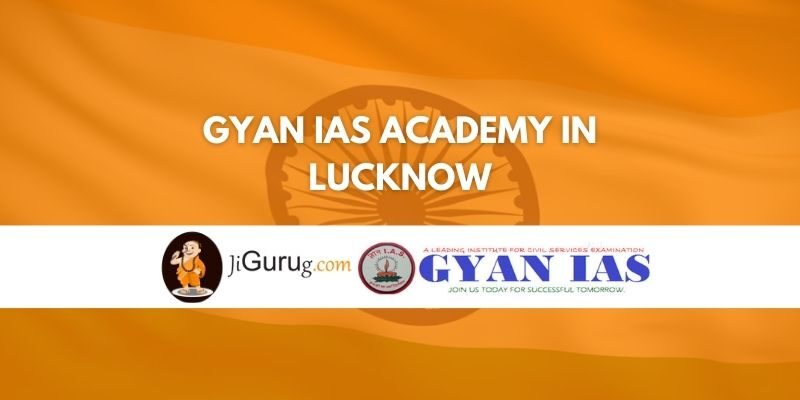 Gyan IAS Academy in Lucknow Review
Gyan IAS Academy Course Offered – UPSC & IAS Coaching
Gyan IAS is one of the best institute which providing Coachings to the aspirants. Academy not only providing their services to the scholars of Lucknow but serve to whole India. Faculty of this Institute is very supportive. Faculty of this institute is the real strength behind the achievements made within the short span of your time to supply quality teaching and proper orientation in each subject the overall Studies experts within the specific subjects handle paper. For practicing online test series academy also provide library and laboratory. 
Gyan IAS Academy in Lucknow Contact Details – 
Address: C7, Lekhraj1, Opp-Lekhraj metro station, Indira Nagar, Lucknow, Uttar Pradesh 226016
Contact number: 8737867900
Features of Gyan IAS Academy in Lucknow–
Fee structure:  The fee structure is very Affordable.
Batch size:  Small to medium size batch are their in Gyan IAS Academy.
Faculty: all the Faculty members are bright, well experienced and supportive they also pay attention to each and every student personally and they are highly qualified. 
Past year result: past year result was good. 
Study material: This academy provides all the comprehensive study materials and they are in detailed & it makes it easy to learn. 
Test series: they take tests frequently and also there are doubt clearing sessions after the test results got declared. 
Infrastructure: Infrastructure of this institute is the best in Lucknow. It has all kinds of advanced facilities for better learning.
 

Benefits of Gyan IAS Academy in Lucknow—
Best IAS Preparation Study Material were provided by Gyan IAS

Gyan IAS Past Year IAS Exam Result is good 

The infrastructure of Gyan IAS is also Best

Gyan IAS Provides Best IAS Study Material to the students. 

The locality of Gyan IAS
Reviews of Gyan IAS Academy in Lucknow
Anubhav adwait- This is the Best coaching in Lucknow
anita singh- Best facility and education system in Lucknow.
aradhya tiwari- Excellent coaching for ias pcs in Lucknow
Frequently Asked Questions About Gyan IAS Academy in Lucknow:
Ques. Is this Academy clear the doubts of student?
Ans. Yes, Academy clear the doubt of students. After the classes get over the doubts of each and every student is been cleared by the individual staff members.
Ques. Do the coaching provides tips and tricks beyond the syllabus to score better?
Ans. Yes, According to our research we have come to knew from students that coaching provide various tricks and techniques. 
Ques. What is the Past achievement of the Gyan IAS in Lucknow?
Ans. Gyan IAS have produce very good result in past years. Our students have qualified UPSC Civil Services exam in past. 
List of Best Coaching Institutes in Others-
List of Top Coaching Institutes in Other Cities –