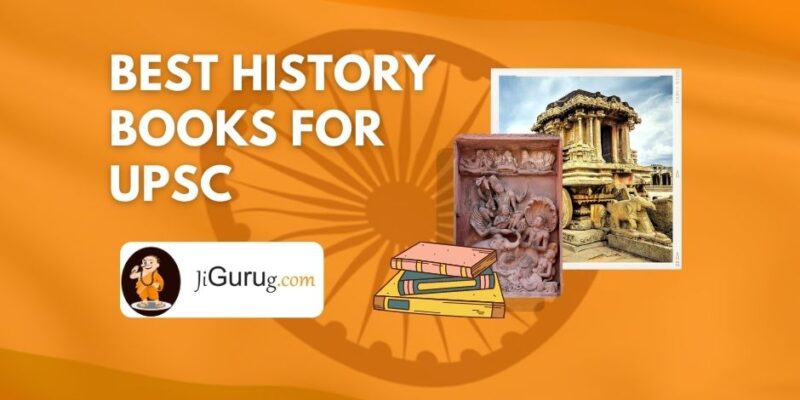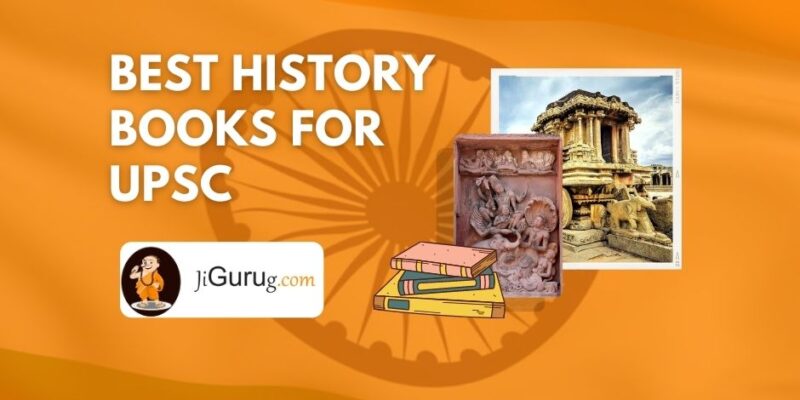 Best History Books for UPSC – Ancient & Modern (IAS Exam)
When it comes to UPSC exam preparation, you have to be expert in each and every subject of UPSC exams. It is hard to skip the History subject while you are preparing for the civil services exam as they are helpful in preliminary exam and Main exam as well. So it is essential for every aspirant to concentrate more on History.
If you are preparing for the General Studies paper in the preliminary exam or main exam, History is one such subject that you should definitely focus on. Moreover, there is a separate optional subject (History) completely and it will be easier for the students to take up this as an optional subject because they would have already learned for the UPSC prelims examination.
For many students, the UPSC history subject has been very important due to the syllabus overlap in all the two stages of Civil Services exams. It is quite hard for the students to understand which book they have to read for history preparation. Unlike other subjects, studying history is interesting as you will be reading a lot about the past culture and traditions followed. 
The Best History Books for UPSC that enhances your knowledge
You will find the best reference books for the history portion in the UPSC exam below. By using these books, you can prepare well for General Studies as well as optional subjects. We have provided the complete list of best History books for IAS preparation. The most important section in History is Ancient and Modern History so you can utilise the information below to refer to the best History Books for UPSC that will help you in the IAS preliminary examination and mains as well. Without much ado, let us check out the top history books for the preliminary exam and main exam of UPSC. 
R.S Sharma – India's ancient past
This is one of the best History Books for UPSC in your history exam preparation as it covers several topics. 
The book starts with the discussion of Ancient Indian history such as the growth of civilization, empires, and religion as well. Moreover, it addresses the cultures like Vedic, Chalcolithic, Neolithic and Harappan civilization. When it comes to other topics, Geography, ecological and linguistic backgrounds are also provided in the book so it will be easier for you to understand the History subject clearly. Mostly History is about the rise of kingdoms and the decline of empires so you will be able to read about the famous kings and empires like Mauryas, Satavahanas Guptas, Harshavardhana and Central Asian countries are also emphasized. It also revolves around the rise of religions like Jainism and Buddhism. 
It is essential to concentrate on Varna system, Development in science and other important topics like the transition of Ancient to medieval India which also has references of Aryan culture. 
The wonder that was India – Best History Books for UPSC
A L basham is the author of The wonder that was India which covers complete details about the Indian culture, religion, tradition, philosophy, science, social evolution and more. You will be able to understand clearly Indian history and the culture surrounded the country. It mainly focuses on Harappan civilization which is helpful for UPSC prelims and mains exam. 
Indus valley civilization for mains and preliminary exam is given more importance. Society and culture in Indian history are very important and you have to focus on this spot while reading the book. Moreover, religions like Hinduism and the role it plays in people's lives are also crucial to read. 
Medieval India – Best History Books for UPSC
Famous author Satish Chandra also wrote a book on Medieval India which comprises of several important topics that are mostly into the medieval period and also incorporates Indian subcontinent's historical landscape that was about 8000 years ago and it will definitely help you in the UPSC exam preparation there are so many topics that will come handy in the UPSC preparation. While reading these Best History books for UPSC, just take a look at the important topics below and start reading for better knowledge about Medieval history.
The political situation in Medieval India is comprehensively covered along with the rise and fall of different dynasties such as Sholas, Rajputs, Vijayanagara, Bahmani and Maratha as well. 
History of Modern – Best History Books for UPSC
History of Modern India is written by Bipin Chandra and it is very essential for students who want to know about colonial India between the 18th century to 20th century. The rule of British government is the highlight of this book and you will get to know everything about the popular National movements and other important movements happening in the country. From the revolt of 1857 to the Nationalist movement, you will get everything that you have to prepare for the IAS exams. 
India's struggle for independence – Best History Books for UPSC
India's struggle for independence is yet another book by Bipin Chandra that will give you comprehensive information about the Indian independence movement. You will get to know how the freedom fighters in the country struggled to obtain freedom. A clear perspective of British rule is also provided. The important topics that you have to read in this book are the All India Muslim League, the first world war, the revolutionary movement, impact of World war II and more. 
History of the world – Best History Books for UPSC
The famous author Arjun Dev's History of the world will also help you in the IAS exam especially for the mains exam. The book is totally about the historical movements that took place in between the 19th and 20th century and how the impacts change the whole world. This book is very special because it also covers the Historical movements around the world like American civil rights moments, Black people's struggle in the United States of America and the cold war and more important historical movements that impacted across the globe.
These are the Best History books for UPSC that you can utilise to prepare for the IAS history exams and there are many books that you should check out for better preparations. It is essential to complete the NCERT books before referencing the Best History books for UPSCthat are mentioned above. 
Other best History books for UPSC that you have to refer for History especially ancient and modern history
Nitin Singhania's Art and Culture  will help in Prelims exam 

A Brief history of Modern India from Spectrum will let you know about modern history precisely. 

An essential addition to your preparation- Plassey to partition: A History of Modern India. This book will aid your Prelims exam learning. 

Ramchandra Guha's History of Modern India is one book you can trust for Mains.

A History of Ancient and Early Medieval India – Upinder Singh
How to study for Civil services exam using best History books for UPSC?
History is a huge syllabus and it is also interesting. You might feel exhausted even if the subject is interesting and you should have a good plan especially when you are running out of time. You can never skip History as it has at least 6 questions in the IAS exam that can be expected in every year's question paper and this pattern is followed for years. A few candidates will skip preparing for the history subject due to the huge syllabus as these marks are trivial but you need to be very careful even with a single mark because you are going to compete with thousands of students who have the same dream as you. Even one mark counts and it is better to prepare for each and every topic in preliminary and mains exams using the best History books for UPSC.
Here are a few important points that you can remember while preparing for History UPSC exam. 
When you see ancient history, you can broadly classify them as prehistoric period Vedic period Indus valley civilization empires and kingdom art forms and finally the religion, and philosophy of ancient India.  

If you start reading, you need to ensure that following a chronology of event will help you to finish the IAS history exam preparation easily.You will be able to remember events in the chronological order and you have to remember the names of renowned kingdoms and special officers who were popular during specific time. This you can follow while preparing using the NCERT textbooks. This is the first and foremost method that you can utilise while reading the NCERT book. Moreover, you can also make use of online notes that are available in several forms which will help you to understand the information clearly. As NCERT books are way too essential in your history preparation, you shouldn't miss important topics at any cost.

If you have completed the NCERT books, then you can check out other books that specifically comprise the important events of Indian History. We have provided a list of the Best History books for UPSC that you can utilise while preparing for the IAS exam. It is not just about remembering the events that occurred but the crux of the event and the dates when it happened are also important. To wrap up, you have to conclude the learning with an understanding of the adverse consequences of the events. 

Finally, it's the revision and you need to utilize the extra time for revising whatever you have learned. If time permits, you can also make use of term test papers and try solving the previous year's question papers. After learning, it is way too important for the UPSC candidates to go through the topics by revising every now and then.
Frequently asked Questions about best History books for UPSC
Ques.How do I start UPSC history preparation? 
Ans: To start your preparations, the first and foremost thing is that you have to gather the study materials, Best History books for UPSC and NCERT text books that have important topics. When you are done with the gathering of learning resources, you can start your preparation easily.
Ques. How can I learn history?
Ans. To start learning, you need to find the best textbooks and Best History books for UPSC of renowned authors like RS Sharma, Bipan Chandra, Nitin Singhania and there are more. The authors have done a good job in comparing all the important events of history from across the world and it will help you to prepare extremely well for the UPSC exams without any doubt.
Ques. Which part of history is more important for UPSC?
Ans. There are several topics in history but only a few are provided in the UPSC syllabus. In that Indian history and culture is considered to be one of the important parts of history in the previous year question paper. However it keeps on changing and you have to read thoroughly without skipping any single subject.
Ques. Can we skip medieval history for UPSC?
Ans. When comparing ancient and modern India history, Medieval India is not given that much importance in both preliminary and mains exams. However, it doesn't mean that you can skip the medieval history as the questions in UPSC exams are unprecedented and you have to be careful while preparing.
Ques. Is NCERT enough for ancient history?
Ans. You are reading from class 6 NCERT books to class 12 NCERT books, then you are good to go. If you have more time then you can concentrate on the other advanced learning resources that are mentioned above. The above specified Best History books for UPSC are written by famous authors so you can enhance your preparations without any doubt.
List of Top Coaching Institutes in Other Cities –
List of Best Coaching Institutes in Others-