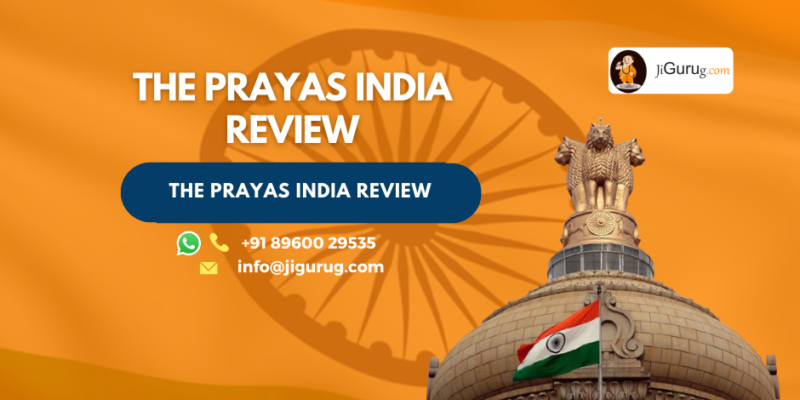 The Prayas India Review
Courses offered by The Prayas India – UPSC, MPSC, Bank, SSC, RRB, NDA, CDS, CAT, CLAT
Raushan Pradhan – 
As per my personal experience of joining the multiple coaching classes at different stages of preparation, I have come to realize that The Prayas India is the best among all. The quality of teaching, regularity of classes, completion of a course in time, finest set of content, etc are missing in all other institutions in one way or the other. It is an extremely valuable course. The teacher's explanation is outstanding and crystal clear. I am really thankful and grateful to The Prayas India for the extraordinary efforts of the team.
Suman Panda – 
The Prayas India for banking aspirants, strength is the faculty members they have. They explain each and every topic with so much ease and accurately in a very short time. They are very supportive and motivating. Its study material and test series are also very helpful. If u want to get selected in the banking sector, go for this institute and u won't regret your decision.
The Prayas India Contact Details – 
Address:
Thane: COSMOS AVENUE BUILDING Office No. 202, 2nd Flr., Above Kumar Cloth Shop, Nr. Canon Hotel, Station Road, Thane – West
Nerul: Nerul Station Complex, F-105 1st Floor, Nerul West, Nerul, West, Maharashtra 400706
Borivali: Orchid Plaza, 203, Swami Vivekananda Rd, Behind Gokul Shopping Complex, Borivali, Mumbai, Maharashtra 400092
Dadar: 15, Bismillah Building, Infront of Suvidha, Opp. Dadar West Station, Maharashtra 400028
Dadar: Office no. 11 Infront of Suvidha, Bismillah Building, 15, opp. Dadar West, Dadar West, Station, Mumbai, Maharashtra 400028
Andheri: The Prayas India, 517, Pearl Plaza, Near MacD, Andheri W, Mumbai-400058
Bhandup: The Prayas India, D-212, Neptune Magnet Mall, Bhandup (W), Mumbai, Maharashtra 400078
Vasai: The Prayas India, 517, Office No: 501 North Lane, Vasai West, Maharashtra 401202
Churchgate: Express Building, Railway Station, IMC Marg, opp. GLC, PF-1, Churchgate, Mumbai, Maharashtra 400020
Contact No: +91 77100 13217, +91-8355951603
Google Direction of The Prayas India
Founder of The Prayas India
Certificate & Achievement of The Prayas India
The Prayas India is an ISO 9001:2015 institution to prepare for various competitive examinations like UPSC, MPSC, Bank, IBPS, SSC, Railway, and entrance examinations MBA CAT, CET, XAT, NMAT, MAT, SNAP, LAW Entrance CLAT, CET, and Defence Exams- NDA/CDS/Naval, etc. The innovation and technology-driven platform of The Prayas make the exam preparation simplified. Because of excellent results and selections, The Prayas has emerged as a leader in its domain and continuously receives the appreciation and love of many aspirants.
The Prayas India is the winner of many awards for quality preparation:
Prime Time Global Education Excellence Award 2017
The most Innovative Institute Award 2017 by APS Research Media
Students Choice Award 2017 & 2018
The GOAL Award 2017
The best institute in Maharashtra by Xel Research Media
The Rising Leadership Award
National Excellence Award 2018
Ranked #1Institute in Maharashtra Award
Course Offered By The Prayas India:
There are too many good courses offered by Prayas India and some of them are listed as –
SNAP Coaching
UPSC Coaching
CAT Coaching
SSC Coaching
CGL Coaching
SBI PO Coaching
XAT Coaching
IAS Coaching
CMAT Coaching
MAT Coaching
IBPS Clerk Coaching
IBPS PO Coaching
IBPS RRB Coaching
The Prayas India Review & Ratings out of 10
| | |
| --- | --- |
| Details | Rating of The Prayas India |
| Student Reviews | 9.5 |
| Google Reviews | 9.4 |
| Batch Size | 10 |
| Batch Time | 10 |
| Infrastructure | 9.6 |
| Fee Structure | 9 |
| Past Year Result | 9 |

Click on the Whatsapp logo to join the UPSC Online Coaching.

Click on the Whatsapp logo to Join Offline UPSC Coaching.
Features of The Prayas India –
Fee structure:  
Batch size: 
Faculty: 
Study materials:
Test series: 
Infrastructure: 
The Prayas India Reviews
Azmira Sultana – The faculty is nice and supportive. Jyoti ma'am is so supportive and always understands my perspectives. And my teachers are also very good.
Ravi Mahto – It is one of the top coaching Centre for MPSC. Very effective classes. You can learn many things in short time. The Prayas India is the best..
Naresh Kumar – Best MBA coaching Institute in Navi Mumbai is Prayas India. I love this classes from this classes l came to know about the knowledge which l get and l also share it because they teach me to do that
Apoorva Yadav – They are very professional and supportive. Learning experience in the Prayas India inspire the student about their full potential and the faculties are very supportive, they are guiding and encouraging.
Mohan Rajak – They are encouraging in terms of our goal achievements and give full support. Their coaching method is unique. It is one of the top coaching Centre for MPSC.
Rishav Pal – I joined this coaching for a quick completion of SSC cgl course. I was fortunate enough to be allowed to choose subjects for my study. Sir was kind enough to let me attend classes in multiple batches to complete the course however I could not continue longer than a month due to my venture. I studied maths and English here. Both teachers are extremely professional in their teaching and I would vouch for them any day for their exceptional teaching acumen.
Advantages and Disadvantages of The Prayas India:
Content
Frequently Asked Questions About The Prayas India :
How Good is The Prayas India for the competitive exams?
Which is the Best Coaching in Mumbai?
What are the complete review and ratings of The Prayas India?
What is the Fee Structure of The Prayas India?
Is The Prayas India the Best coaching for competitive and entrance exams?
Which is the nearest branch of The Prayas India from My Location?
What is the infrastructure of The Prayas India?
The Prayas India Review articles of different branches in Mumbai –
Disclaimer – These ratings & reviews have been entirely on the basis of the research and analysis done by the JiGuruG team. We here at JiGuruG, solely declare that these ratings & reviews are free from all external and internal influences and purely based on the study done by the JiGuruG team. If in case anyone is having concerns, please feel free to reach out to us at [email protected] (+91 – 9044613842)