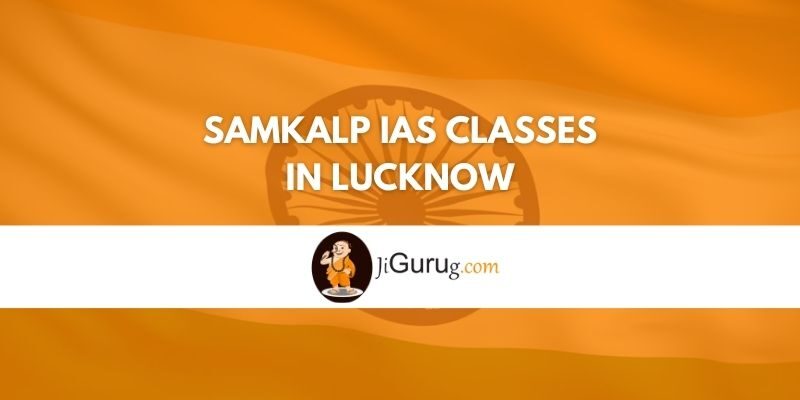 Samkalp IAS Classes in Lucknow Review
Samkalp IAS Classes Course Offered –  UPSC & IAS Coaching
SAMKALP was founded in 1986 to groom students to take up the country's administrative services, as a profession with a missionary zeal, nationalistic spirit, and complete devotion to basic human values. Choosing your own career path is not just a game for anyone, but what if someone helps us find a way into it. For everyone, it will be much better. So, we're here to lead you to your best career option, where you'll be able to gain all the success you deserve. We've described all the best IAS coaching centers in Lucknow in this page. Which will be helpful to you to choose what's best for you. And also which won't compromise your career opportunities as well. Here's in this article we've described Samkalp IAS.
Samkalp IAS Classes Contact Details –
Address: Shop Nk 6,Shristi Shopping Centre,IT Crossing Nesr University, Lucknow, Uttar Pradesh 226007
Contact number: 8948860843, 7523868080
Email: [email protected]
Features of  Samkalp IAS Classes in Lucknow–
Fee structure: 1 year rs. 65,000
Batch size:  30 students
Faculty: All the Faculty members are bright, well experienced and supportive they also pay attention to each and every student personally and they are highly qualified. 
Past year result: Past year result is acceptable it was 70%.
Study material: This academy provides all the comprehensive study materials and they are in detail & it makes it easy to learn. 
Test series: They take tests frequently and also there are doubt clearing sessions after the test results get declared. 
Infrastructure: The infrastructure of this institute is the best in Lucknow. It has all kinds of advanced facilities for better learning.
Benefits of Samkalp IAS Classes in Lucknow
Good Infrastructure

Best Batch Size
Shortcut tricks to crack the exam
Update in a study material
 Affordable Fee Provided
Frequently Asked Questions About Samkalp IAS Classes in Lucknow:
Ques. Is Samkalp IAS provide any Study material?
Ans. Yes, Samkalp IAS provide Study Material. They have provides their own Study Material written by their team. 
Ques. What is the feedback of Samkalp IAS?
Ans. As per our research and opinion taken from various students we have come to know that Samkalp IAS provides best learning experience, interactive classes test.
List of Best Coaching Institutes in Others-
List of Top Coaching Institutes in Other Cities –