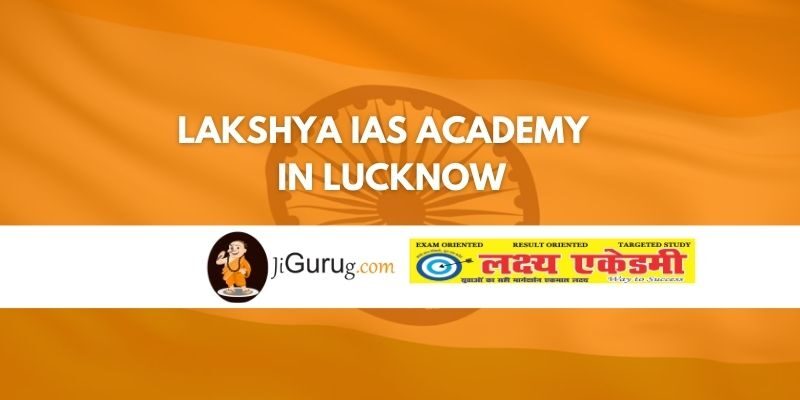 Lakshya IAS Academy  in Lucknow Review
Lakshya IAS Academy Course Offered – UPSC & IAS Coaching
Lakshya Academy is one of the best IAS Coaching Institute in Lucknow. Academy was established in the year 2017 by Smt. Manju Singh. Faculty of this institute is best and experienced. Geography classes are very excellent with Rajendera sir. Lakshya Academy provides classes in both English and Hindi Medium. Lakshya Academy offered  courses IAS, PCS, RO, ARO, APS. Fee structure is also fine of this institute. This Institute has years of experience in this field. Institute also provides mock tests. Infrastructure is also good. Institute is updated with the latest technology. Thus, I can surely say that Lakshya Academy  in Lucknow will not let you down and will get you all success you need in your future!
Lakshya IAS Academy in Lucknow Contact Details – 
Address: Pragya Bhawan , Shani Mandir Chouraha, Telibagh, Lucknow, Uttar Pradesh 226025
Contact number: 081820 93320
Features of  Lakshya IAS Academy in Lucknow –
Fee structure: IAS, PCS, RO, ARO, APS
₹30,000 for 10 months. 
Batch size:  Not disclosed
Faculty: Dr. SK Manav Sir, Mr. Rajan Singh, Arun Gautam Sir, Chanda mam
Past year result: Past year result is acceptable it was too good.
Study material: This academy provides all  study materials and they are in detailed & it makes it easy to learn. 
Test series: They take tests frequently and also there are doubt clearing sessions after the test results got declared. 
Infrastructure: Infrastructure of this institute is the best in Lucknow. It has all kinds of advanced facilities for better learning.
 Benefits of Lakshya IAS Academy in Lucknow —
Past Year IAS Exam Result is good of Lakshya Academy. Institute Provides Best IAS Study Material. The locality of Lakshya Academy is also good.  The infrastructure of Lakshya Academy is Best. Best IAS Preparation Study Material are available in this Institute.
Reviews of Lakshya IAS Academy in Lucknow
Manju- Best geography call with Rajendra sir
Shukhwasi- Best coaching for IAS PCS in Lucknow. Bedt Faculty form Delhi and Lucknow.
Chandresh Kaithal- Excellent coaching for All cptative exams in Lucknow.Best teacher, best motivational speaker guidence to students for his bright future.Speed test organised here every Saturday which help much more students in exam.All the best.
Frequently Asked Questions About Lakshya IAS Academy in Lucknow:
Ques. What is the timing of Lakshya Academy?
Ans. Mon:    7:00 AM – 8:30 PM
Tue:    7:00 AM – 8:30 PM
Wed:    7:00 AM – 8:30 PM
Thu:    7:00 AM – 8:30 PM
Fri:    7:00 AM – 8:30 PM
Sat:    7:00 AM – 8:30 PM
Sun:    Closed
Ques. How Good is Lakshya IAS Academy in Lucknow for the IAS Coaching in Lucknow?
Ans. Yes, it is a good institute for the students in Lucknow. A few of the ratings are the concern as they have portrayed that the courses and faculty are not good. However, you will never know a course is good or not until you enroll for one.
Ques. Is Lakshya Academy Lucknow the Best coaching for UPSC (IAS) in Lucknow?
Ans. Lakshya Academy is considered to be one of the best places where you can initiate your preparations without any doubts. The students have learnt in the best way which will help them to reach the pinnacle of success effortlessly. Moreover, the teachers in the Lakshya Academy are trying their level best to heave the preparations of students steadfastly.
List of Best Coaching Institutes in Others-
List of Top Coaching Institutes in Other Cities –