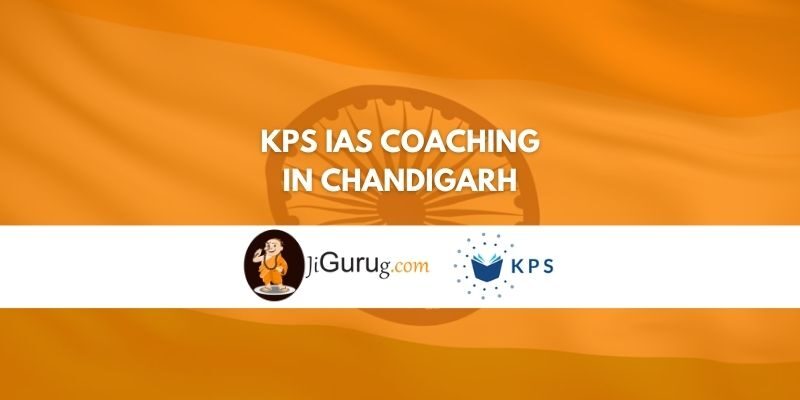 KPS IAS Coaching in Chandigarh
KPS IAS Coaching in Chandigarh is one of the pre-eminent coaching institutes for UPSC and IAS which was established in the year 2005. it is known among one of the best IAS coaching institutes in Chandigarh. the institute totally focuses on the best possible techniques or methods through which they can teach the students.
To excel in the career of the Civil services exam is the dream of many IAS/UPSC aspirants. students looking forward to a good coaching institute in Chandigarh can surely consider KPS IAS Coaching in Chandigarh as an option.
It comes up with the great facilities and faculty members for the students. students who passed out from the institute are known today as very much successful in their careers.
KPS IAS Coaching Contact Details –
Address: SCO 214 Ground floor, Sector 36-D, Chandigarh, 160036
Phone: 073475 79002
Email – [email protected]
Google Rating: 5 out of 5 stars (74 Google Reviews)
Features of KPS IAS Coaching in Chandigarh –
Faculty: The faculty team of KPS IAS Coaching is very dynamic teachers who are qualified from Delhi and very passionate about work.
Past year result: Previous year result of the Coaching is Outstanding. One of the IAS Topper from this academy was Rukmini Riar AIR- rank 2
Study materials: Provides study materials of all subjects which are revised and circulated among students. All the important topics are covered in the study material. Also, the coaching provides IAS Notes
Test series: Provides regular and best test series for the best preparation of students.
Infrastructure: Infrastructures of the is very good. Classrooms are well and fully air-conditioned. LCD projectors are also used for teaching purpose
Benefits of KPS IAS Coaching in Chandigarh-
Provide the coaching at the Delhi level to the students.
English and Hindi both mediums are available.
Courses are oriented on the basis of results.
Revised study materials and notes are provided to the students.
Smart technologies are used for teaching,
Regular test series are given.
Review of KPS IAS Coaching in Chandigarh
Deepak Industry – Preparing with the institute from past 6 months now, I have found their teaching methods impeccable. Before join I had attended demo at some of the most known institutes of Chandigarh, so I can say with satisfaction that it is the Best IAS coaching institute in Chandigarh.
SKS KS – One of the best institutes of upsc coaching. Excellent faculty,plus the thing that stands out is personal and moral guidance with empathy by staff and mam herself 😊😊
Jaspreet Brar – I have visited many IAS coaching institutes but truly this is the first option for anyone thinking of preparing for IAS exam. Really great quality of study material and Test Series. Highly recommended for anyone looking for Best IAS coaching Institute in Chandigarh
Frequently Asked Questions About KPS IAS Coaching in Chandigarh:
Q. How is the infrastructure & environment of KPS IAS Coaching in Chandigarh?
Ans. After detailed research about KPS IAS Coaching, we come to know that infrastructure and environment are very good and impressive. Academy is in a very good locality. Spacious classrooms with lecturer stands and mics.
Q. Do KPS IAS Coaching in Chandigarh provide tips & tricks beyond the syllabus to score better?
Ans. Yes, according to our research we come to know from various students that KPS IAS Coaching provides various unique, unknown, and impressive tips, tricks, and techniques beyond the syllabus to score better.
Q. What is the batch size of KPS IAS Coaching? 
Ans. The batch size of the KPS IAS Coaching is small. There are about 20 to 30 students in one batch.
Q. KPS IAS Coaching in Chandigarh providing any study material? 
Ans. The study material at KPS IAS Coaching is different from others because here the study material is designed according to the exam's point of view. which is a very unique feature of the institute and helps the students in their future.
Q. How is KPS IAS Coaching in Chandigarh better than the other Coaching Institute? 
Ans. KPS IAS Coaching provides study materials of all subjects, notes are provided online as well as offline, small batch size, Good infrastructure, a regular online quiz is conducted, and test series of Prelims and Mains are given which makes it better than other coaching institutes.
List of Best Coaching Institutes in Others-
List of Top Coaching Institutes in Other Cities –