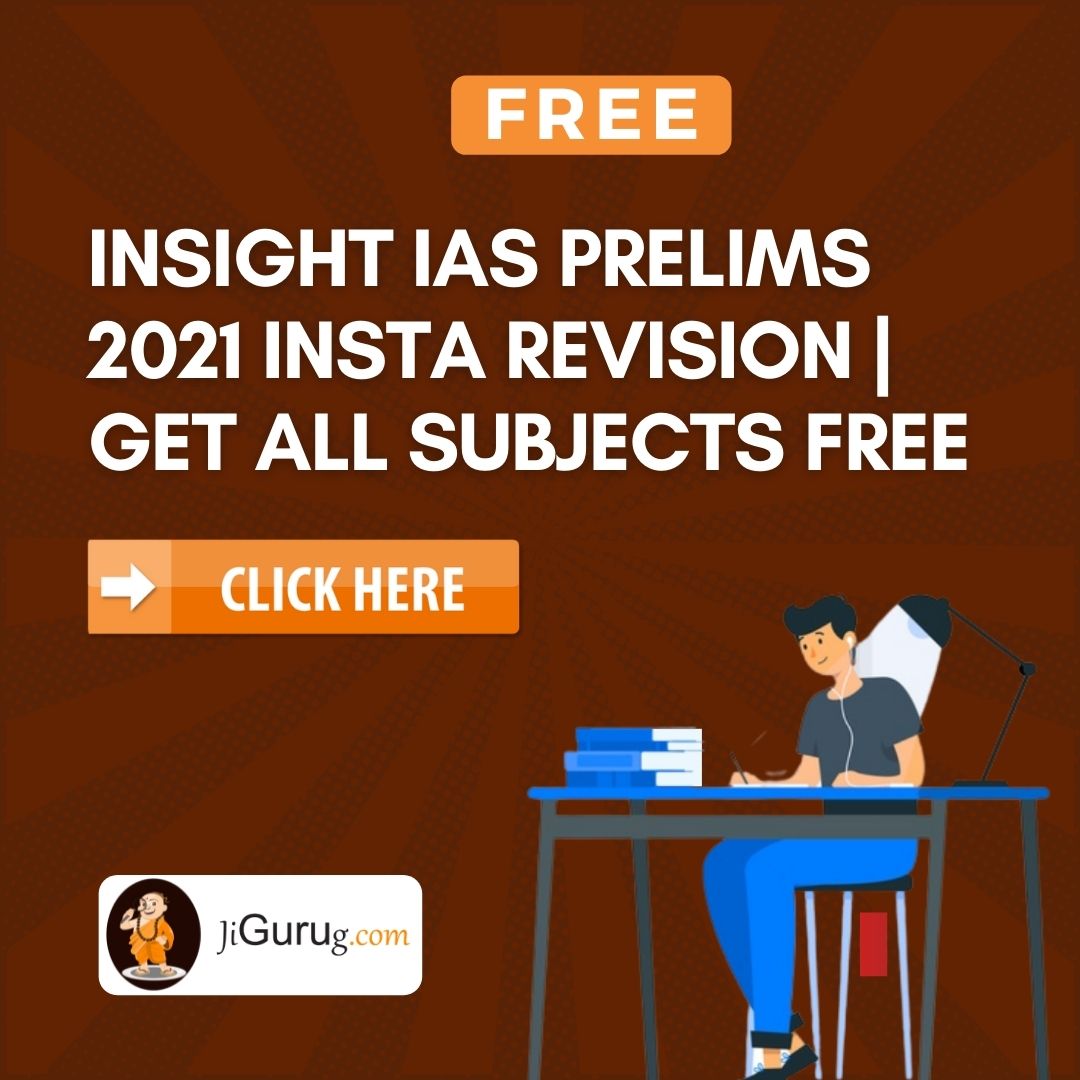 About Course
Insight IAS Prelims 2021 Insta Revision
Dear Friends,
It is great that you are preparing for UPSC Civil Service Examination. We at JiGuruG.com a team of passionate mentors and counselors to help you in your UPSC CSE journey.
As per our experiences, it is always difficult to choose correct study materials and a good coaching institution. There are many students who can not afford to coach and even get confused with the ocean of materials. We at JiGuruG.com do research and development and gather all useful resources and information to help you to prepare for UPSC Civil Service Examination.
The UPSC CSE materials offered here are solely for educational purposes. We request you to use the learning resources to develop your knowledge. It is not available for commercial purposes. Our team had worked hard to offer free study resources for every aspirant.
How Insight IAS Prelims 2021 can help you in the exam preparations.
You plan to start the Preliminary examination but not sure where to initiate the exam preparations. In such events, you need the perfect guidance to complete the exam preparations. Especially when you prepare for IAS exam, it is essential to have everything in place to prepare for the IAS exam. From learning resources to test series and revision schedules, you need to have a complete package for better exam preparations. However, many people find it difficult to find reliable materials for exam preparations.
The first step in initiating the exam preparation is knowing the syllabus completely after which you will be able to plan a perfect schedule for starting your learning path. When you initiate the exam preparations, you should have good learning resource and the availability of abundant resources in the internet makes it tough job for students to find quality materials for their preparations.
When you have good resource reliable until the last leg of your preparations, the  learning path will much easier. It might take time to find a reliable for many students. The process including evaluating the study materials particularly renowned resources which  narrows down the options and also eases the process of finding quality materials. You may choose a handful of options to pick the best learning resources. However, it is essential to know which is suitable for you. We have made this long process of finding quality materials to help you in the preparations, we offer you the best that can help in learning. It is essential for you to take a look at the courses  available if you are planning to join an institute. Similarly, finding learning resources will take time but we ensure that you don't spend much time in searching for the quality materials.
What's in Insta revision modules
The in Insta revision modules incorporate essential current affairs very helpful to initiate the IAS exam preparations. The modules are used for revision and you can use it after following up with the current affairs compilations. If you want to score more marks in the IAS preliminary exam, then you can utilize the materials available. Current affairs are not just an added element to your IAS exam preparations but they are a crucial part in your IAS exams as most questions are asked from current affairs and it is important for the candidates to utilize the available revision modules that supports great preparations.
The Insta revision can help you prepare well for the exams but you need reliable study materials. The contents in the Insta revision are carefully crafted by expert professionals which will help the  students to learn well without any hindrance. For students who need quality learning materials, take a look at the below given links to acquire the best resources. You can start learning without any hindrance as the materials are  furnished by experienced educators with an aim to help you out in the exam preparations.
All materials are categorised in a structured way so that it will be very easy to an aspirant to find out relevant materials for UPSC Preparation. IAS Free materials are categorised into following manner:
UPSC Prelims
UPSC Mains
UPSC Interview
UPSC Prelims Test Series
UPSC Mains Test Series
UPSC Strategy
UPSC Video Lectures
UPSC History Subject
UPSC Geography Subject
UPSC Economy Subject

UPSC Polity Subject
UPSC Current Affairs
UPSC Science & Technology
UPSC Art and Culture
UPSC Environment
UPSC Ethics and Integrity
UPSC CSAT
UPSC Previous Year Paper
UPSC Optional Paper
UPSC Important Books
If you are starting the UPSC preparations for the first time, it is essential to know about the IAS preliminary exam, Mains exams as well as optionals. Our team had strived to furnish the content in simple language for a better understanding of the students. You can check out the UPSC prelims book list that offers you valuable insight to help you initiate the preparations. After that, you can take a look at the best study materials for IAS exam preparations and check out our Telegram channels post.
Disclaimer:
Team JiGuruG.com declare that the material shared here is not at all property of us. We have neither created it nor scanned it. We have gathered all important information and materials at one place which are freely available in internet. We do not own it or claim ownership of it. Ownership of the materials of any institute that we share lies with the respective Institutes/Companies only. We do not intend to either harm or en-cash hard-work of any institutes/company. If in case there is any violation of trademark or copyright of any institutes like Vision IAS, Vajiram and Ravi, Gs Score, Insight IAS, IAS Baba, Forum IAS, Shankar IAS or others, it is purely un-intentional and will be removed immediately subject to the verification. For any type of communication request you to please reach out in [email protected].
Show More