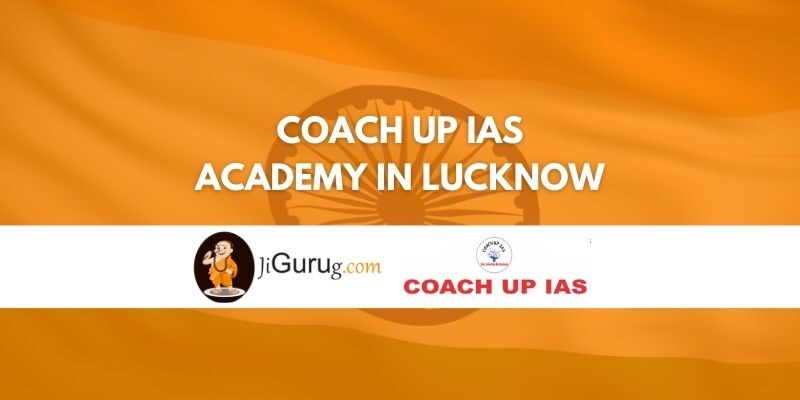 Coach Up IAS Academy in Lucknow Review
Coach Up IAS Academy Course Offered – UPSC & IAS Coaching
Coach UP IAS is the best quality education offered by IAS Coaching in Lucknow. Demo courses are offered by this Academy. All of these services have a different fee structure from each other. The objective of CoachUP IAS was to help the students reach their goal. By giving them inspiration, comprehension and individualized focus. This institute's faculty is very encouraging. The Academy holds personality development workshops.
COACH UP IAS  in Lucknow Contact Details – 
Address: B1, 18, Purniya Chauraha, near Mahalaxmi Sweet House, Sector H, Sector-A, Aliganj, Lucknow, Uttar Pradesh 226024.
Contact number: 083186 00261
Features of  COACH UP IAS in Lucknow  –
Fee structure: CoachUP IAS's fee structure is typically inexpensive and in return they have such productive teaching.
Batch size: The Small batch size is there for paying individual attention to each student.
Faculty: All the Faculty members well educated and qualified. 
Past year result: The Past year result of COACH UP IAS in Lucknow was average.
Study material: COACH UP IAS Coaching Lucknow provides study materials to the students and they are in detailed & it makes it easy to learn. 
Test series: The COACH UP IAS take tests frequently and also there are doubt clearing sessions after the test results got declared. 
Infrastructure: The COACH UP IAS Lucknow has very good infrastructure. It has all kinds of advanced facilities for better score. 
 Benefits of Coach Up IAS Academy in Lucknow 
Coach UP IAS provides best with the latest IAS coaching.
Coach UP IAS offers the Best IAS Coaching Faculties
Coach UP IAS contains the best content for IAS research
The Coach UP IAS infrastructure is the best.
The Strong Rank of Coach UP IAS
Best instruction to assist students with the UPSC CSE Exam planning.
Review of Coach Up IAS Academy in Lucknow
ishika singh Communication, Professionalism, Quality, Value in Lucknow coach up ias is the only coaching which competes with coachings od DELHI
Frequently Asked Questions Regarding COACH UP IAS in Lucknow:
Q. Do CoachUP IAS provide any online classes?
Ans.Yes, online classes are offered by Coach UP IAS in Lucknow. Not only does Coach UP IAS provide online courses, but the students also hold online question sessions.
Q. How is the Infrastructure and environment of the Coach UP IAS?
Ans.  the Infrastructure and environment of the Academy is impressive and good.
Q. Is the coaching provides tips and tricks beyond the syllabus to score better?
Ans. Yes,  the coaching provides various tricks and techniques to the students so that they can improve their performance. 
List of Best Coaching Institutes in Others-
List of Top Coaching Institutes in Other Cities –