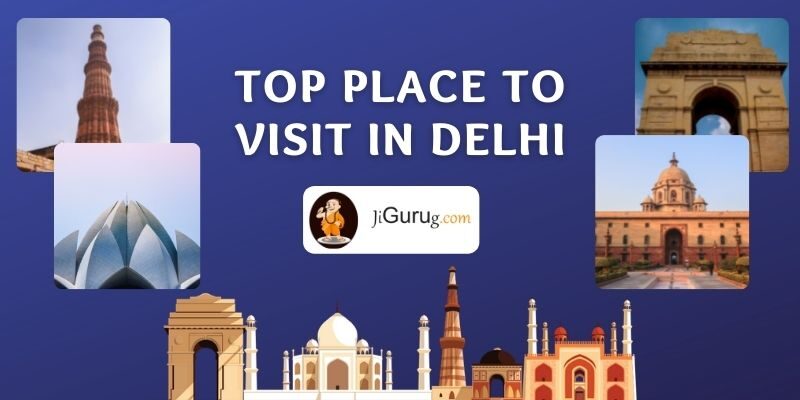 Top Place to Visit in Delhi
Best Place to Visit in Delhi: Travelling is always fun and there is no doubt about that. Visiting various places across the country is an exceptional experience for wanderlusts who enjoy exploring new destinations. If you love to travel, you cannot ignore Delhi as it is one of the most beautiful destinations you will ever visit. There are so many places to explore in Delhi that you'd love to visit. People in the country and from abroad also enjoy visiting the peaceful locations in the region. If you are planning for a weekend getaway or going on a vacation to escape for a few days, it is essential to check out the coolest places in Delhi. Here are the top places that you cannot miss out while exploring the region.
About Delhi
Content Here
List of Best Places to Visit in Delhi:
Top Visiting Places in Delhi
List of Best Places to Visit in Delhi
1
Akshardham Temple
2
Red Fort
3
India Gate
4
Hauz Khas
5
Worlds of Wonder
6
KidZania
7
Connaught Place
8
Dilli Haat
9
Fun N Food Village
10
Snow World
11
Qutub Minar
12
Humayun's Tomb
13
Lotus Temple
14
Damdama Lake
15
Cyber Hub
16
National Rail Museum
17
Kingdom of Dreams
18
Appu Ghar
19
Jama Masjid
20
Rashtrapati Bhavan
Akshardham Temple
Swaminarayan Akshardham temple is located in New Delhi very close to Noida. The temple was opened 15 years ago in front of Doctor APJ Abdul Kalam, KL Advani, and Manmohan Singh. The temple is one of the best tourist destinations that everyone loves to visit once. This exceptional architecture inculcates a perfect clean atmosphere. Most of the tourists who have visited New Delhi will definitely check out this place as it is a must-see tourist destination.
One can stay up to 3 hours there to explore the beautiful temple. Moreover, it is essential to know that the temple took around 5 years to be completed. The temple is dedicated to Bhagwan Swami Narayan and it holds the value of ancient culture in the country. You will also get to view the sculptures of Indian heroes, factory arts, and warriors in bronze. The old temple is marvelous and you can also get to view the life teachings of Bhagwan Swami Narayan. The entry fee is not more than 200 and it varies for children and adults. The nearest metro station is Akshardham and you can easily reach the temple.
Red Fort
It is time to relish the historic fort in the Delhi region which served as the exceptional residence for Mughal emperors. Famous emperor Shah Jahan constructed the Red fort when he moved the capital from Agra to Delhi. The Red Fort was constructed by the architect Ustad Ahmed Lahori who built the Taj Mahal. The fort is very near to the Yamuna river and the construction was initiated in the first month of the Islamic calendar and it was under the supervision of Shahjahan himself.
After Shahjahan, his successor Aurangzeb constructed the pearl mosque. Several rulers defeated the Mughal army and plundered the Red Fort to acquire the peacock throne. The history of the Red Fort is vast and it is one of the major historical forts that you should definitely visit without any doubts. Moreover, the Red Fort is represented as the senate of mohal creativity which had an influence on buildings constructed later in and around the Indian subcontinent.
When you visit the Red Fort, you should definitely take a look at the structures such as Lahori gate, Delhi chhata chowk, naubat khana, Mumtaz Mahal, rang Mahal, Khaas Mahal Hira Mahal and more. You can definitely spend at least half a day in the red fort to explore these historical monuments and have a great time.
India Gate
India gate which was formerly called as the all India war memorial is in New Delhi and it is also called Kingsway. Edwin Lutyens constructed the memorial gate which stands as a memorial for more than 70000 soldiers of the British Indian army who died in the first world war. It is one of the iconic places that needs no introduction as it is a popular tourist place to visit.
The design is compared to the Arc de Triomphe in Paris, in Paris and for Arch of Constantine, the India gate is one of the main tourist attractions that is open from 7 p.m. to 9 p.m. The republic day parade also passes through this spot and many process protests have taken place in this popular spot. The design and structure is exceptional and is rare to look at. Over there, you will find the words inscribed in the India gate.
To the dead of the Indian armies who fell and are honored in France and Flanders Mesopotamia and Persia east Africa Gallipoli and elsewhere in the near and the far-east and in sacred memory also of those whose names are here recorded and who fell in India or the north-west frontier and during the third afghan war
You will also find a canopy inspired by the sixth-century pavilion in Mahabalipuram. The canopy was constructed a few decades ago by well-known architects. Initially, the Tudor crown was at the top of the canopy but it was later removed.
Hauz Khas
Hauz Khas Village is one of the renowned spots in the city of Delhi which is also called HKV and the urban village that inculcates contemporary spots like cafes, boutiques and antique shops. There are so many attractions in this village which leaves the tourists to hang out at the place. The phrase Hauz Khas is a Farsi word that means royal water tank that implies Alauddin Khilji built the royal water tank in the 13th century to provide water supply for the cities.
You will also get to view the famous monuments by the edge of the lake and Madrasa is a very renowned place during the Delhi sultanate as it is one of the famous institutions full stop there are so many features like impressive pavilions decorated gardens mosque inside the complex and the shops that you can check out. There are several beautiful places that are the best to visit when you are in Delhi.
Hauz Khas has so many luxurious spaces that you can check out. Firstly, visit the historical monuments and architecture followed by a small brunch at a famous cafe and you can also go for it and in the clubs around after which you can navigate to shopping. Galleries in the Hauz khas Village will let you explore more deeper and it will be the best time you can enjoy with your friends and family.
Worlds of Wonder
The Worlds of Wonder is another place that you should definitely visit as it is one of the best amusement parks located near Delhi. The amusement park inculcates teen zone, family and children zone, arrival village, Lake water park and go karting. It is a popular amusement park that offers the best places. If you are ready to explore exotic places, then this amusement park is the best place for you.
The place will be a perfect destination for people of all ages as it has 20 different rights. The exceptional features in the amusement park also inculcate restaurants and cafes so you can definitely plan to explore this amazing amusement park to indulge in adrenaline-rushing activities.
Rejuvenate by enjoying a few hours in this extremely great amusement park. There are so many sites and attractions in the world of wonder and you should definitely check out the deep-sea adventure, rapid racer, Boomerango, craft ride, wave pool, mega disco, big beat karte smashes, and more.
There are rights for kids too and the names go by Hippity hop, space shot, cozy little, and more. By taking a taxi, you can reach the worlds of wonder located in Noida. Weekends will be the best time to explore this place and enjoy it with your family.
KidZania
KidZania is a Safe and secure theme park constructed inside to help kids enjoy real-life role-playing activities. Theme park inculcates cars, buildings and even has a currency of their own. The kids will enjoy exploring the exceptional places there and it is essential for every tourist to take a look at the exceptional features inculcated in the theme park. From careers to decision-making, real-life role-play will help children learn a lot.
The whole theme park is specially constructed for kids with private and public services, entertainment, automobile, retail restaurants, and factories. Whether they wanted to be a surgeon or a radio jockey there are so many role-playing activities available in KidZania. There is some fun left for adults too. A ball table and pool table are the best for parents to hang out and there is a place where parents can spend time reading books or staying online.
With cafes and comfortable lounges, the parents can stay without any hindrance. The role-playing activities like acting Academy, animation Academy, archaeological site, aviation Academy, dubbing studio, hair spa, music school, police station railway station, and the stadium and sports have games room are also there. It is easier to reach the theme park by taking a ride to the theme park. It is essential for the parents to carry valid ID proof and other requirements.
Connaught Place
Connaught place, also known as Rajiv chowk reminds one of the main business centers in New Delhi. It is located in Delhi and it is a neighborhood that you can never ignore while exploring the streets of Delhi. With historical importance and being a business hub of Delhi, the place has so many sports that can keep you busy all day long.
There are so many things that you can do to explore the Connaught place and here is everything you need to know about it. For the past years, it has been gaining popularity among tourists. Moreover, it has been the most expensive work location in the world. You can do various activities at Connaught place and one of them is to shop till you drop. There are so many stores in and around Connaught place that let you shop all day long and you should also start your shopping journey from Palika Bazar.
All so you can take a lookout at religious destinations like Gurudwara Bangla Sahib, Hanuman temple, and more. There are historical monuments as well which will help you to revisit the history. Moreover, there are pubs and bars near Connaught place to relish with your friends. Check out the contemporary or centers and relish the day exceptionally.
Dilli Haat
Dilli Haat is one of the renowned shopping gateways in New Delhi where you can enjoy a fun festival, music, and food. The marketplace is a reflection of the culture and lifestyle of the people living over there. Being one of the top spots, it is considered the best tourist destination and an active choice for shopaholics. From handlooms to brass items, there are so many artifacts that you can acquire here.
Delhi has acquired a special place in the hearts of tourists and it is essential to check out the exceptional items available over there. It was first established in 1994 and with the help of the government, the market was developed. You can visit Dilli Haat as it has two entrances and there is a small souvenir shop offering mainstream souvenirs of Dilli Haat.
You will also get the stone masonry design and slate work. It is easy to visit Dilli Haat as it is located from a distance of 12 km from Delhi airport. Take a cab for me to reach Dilli Haat from the airport. It might take around 15 minutes and you can also use public transport to reach Dilli Haat.
Fun N Food Village
Fun N Food Village is an amusement park located in Delhi and it is one of the oldest water parks that brings countless tourists to the location. It is one of the best destinations in summer as the water parks available in this area will help you to relish hot summer days in water parks. Fun N Food Village amusement park inculcates enjoyable rides in and around the water.
It was established in the year 1993 and inaugurated by the president, Sri Gyani zail Singh. You can enjoy rides like a lazy river, wave pool, family slide, Twister speed coaster, multiline slide, and more. This remains the main tourist attraction as the theme park includes multiple rides for people of all ages. From teenagers to adults and senior citizens, everyone can enjoy a ride here.
Snow World
Snow World is one amusement park that you should never miss visiting Delhi city as it has a temperature lower than 10 degrees Celsius. Can you think of anything much better to visit on a hot summer day.? Snow world is the best place to enjoy yourself with your friends and family during summer. From ice skating to snowboarding, you have a lot of fun rides to pass time there. There are fun rides for kids and they will also enjoy their time with the best rides and more. You have the jacket and gloves on as it is going to be cooler just like the weather conditions in snow mountain.
Children below 2 years are allowed to come for free but charges have to be paid for children above two years. Activities like snow sledding, snowfall experience and more are exclusively available to enjoy a fun day. Moreover, there will be attractions like igloos, cultural walls, and a snow tunnels as well. You can enjoy and visit this place without any doubts to enjoy with your family. To add more enthusiasm, there is also snow dance and get ready to enjoy the pleasure of enjoying snowfall in Delhi.
Qutub Minar
Qutub Minar is a world-famous structure which is located in Delhi. It is one of the monuments that you should definitely visit and enjoy your time. It is also known as a victory. The first ruler of Delhi's sultanate started the Qutub Minar and hence it was named after the Delhi sultanate. You can also visit significant monuments in and around the Qutub Minar. There was an earthquake in the 14th century which caused damage to Qutub Minar but later was fixed by Sikandar Lodi.
After that, there was another earthquake in 1803 and it was again renovated by the British Indian army. The planning and financial arrangements for Qutub Minar were done by the Afghani tribe who came to India. It was during the 11th century that different Nomadic clans were united and converted to Islam. The monument is exceptionally constructed and it is one of the beautiful places that you can visit in Delhi so don't miss out on this special historical monument. Check out the exceptional beauty of the architecture and find out how the rulers have created such beautiful constructions with basic tools.
Humayun's Tomb
The tomb was named after the Mughal emperor as it was commissioned by his first wife Begum. It is yet another monument addressed under the UNESCO Heritage site which attracts countless tourists from across the globe. The construction was done under the supervision of began after the Mughal emperor passed away. It took about 7 years to complete Humayun's Tomb and it was taken care of well.
This is one of the best historical monuments that you should visit without any doubts and the construction was overlooked in the period of Akbar's reign. It is a great place for every tourist to visit as the ethereal beauty of the tomb is a great place to visit and enjoy. It is one such beautiful place that tourists should never miss out on.
There are so many monuments in and around the tomb which you can check out and spend the whole day in here. It is one of the best places and the best time to visit during the month of October as the winter climate will help you to enjoy the ambiance and the coldest days of the year will be perfect for sightseeing in and around the tomb.
You can take really good photographs here with perfect lighting and also take a look at the exceptional Persian architect Mirak Mirza's works. There are also some restaurants where you can enjoy having lunch or dinner with your family. Collect some souvenirs near the nearby shop to keep it as a remembrance of this place. You can also utilize the guides to check out the famous tourist spots usually visited by the wanderlusts.
Lotus Temple
Lotus temple is one of the main attractions for tourists and especially peace lovers and history class girls. The Lotus temple was constructed using marble-clad petals all over the sides and it can hold up to 2,500 people. The Lotus temple has won several accolades and more than 70 million visitors have visited this Lotus temple. Moreover, a hundred million visitors have already visited in the year 2014.
This is one tourist attraction that you should definitely check out. Previously the place was called the house of worship for all kinds of religion and faith. Persian architects from Canada designed this construction with the inspiration of lotus. The most visited tourist attraction in the country has 10,000 daily visitors. The Bahai religion has no idols or pictures to worship and there are around seven houses of worship situated in different countries such as Sydney, Frankfurt, Germany, Willmott, USA, and more.
You will definitely enjoy this place and feel peaceful from inside. This unique place has a charming Garden and infuses an aura of positive Vibes. People from diverse religions visit this beautiful place as Lotus is a common symbol of many religions. When you are visiting this place, you can enjoy other places, as well as there, are several tourist attractions located near this incredible building.
Damdama Lake
Damdama lake is located in gurugram New Delhi. If you are exhausted from city life, it is essential to take a look at the peaceful adventure in Damdama Lake which is located in the Aravalli ranges it is a perfect destination for adventure junkies and it includes a wide range of adrenaline-pumping activities. You can go Rock climbing, which is a famous activity in Damdama Lake, and enjoy a few hours climbing up the rocks, which is an adventure that people love to relish.
Moreover, there is a low commitment camping trip offered by the blue camp which lets you stay overnight for BBQs and more. So this is another place you can enjoy in peace without driving too far from the city. There is also boating here which can be a perfect activity for a day out with your loved ones. You can definitely enjoy the Damdama Lake in New Delhi and the City activities are exceptional places where you can relish the time without any hindrance.
Travel trips are available for kids as well as adults so you can enjoy at least half a day there. If you want to go on a water picnic, the cost may be up to 750 whereas the picnic at Damdama Lake will cost you 650. There are also other resorts that you can book and enjoy staying at.
Cyber Hub
Cyber Hub is a place where you can still party and even work. This place has been one of the famous tourist attractions where people enjoy it without any hindrance. Cyber Hub has been a great place to visit and enjoy as there are so many spots to roam around during the day as well as at night. You have to check out the places. You can also stomp around at night times as a place is open for late-night as well.
There are so many choices of restaurants in the Cyber Hub so you can try different dishes for breakfast, lunch, and dinner. There are also a few options open at midnight which you can try without hindrance. There are trails of bars and cafes that you can enjoy. A few of them you can enjoy the place without any doubts. Cyber Hub also has several shopping malls where you can enjoy the day and shop till you drop.
Famous shops like Shoppers Stop, Marks and Spencer and more are available. The connectivity is also way too good as there is Delhi metro which makes commuting easy. You can also check out for some grown-up playtime. There are also budget-friendly places like KFC and kebab express where you don't have to splurge money but you have a complete lunch.
National Rail Museum
The National Rail museum is a great place. Take a look at the exceptional features. So many features that you can explore while visiting the national railway museum. It is also easier to reach. Being one of the largest railway networks, it is essential to explore the exceptional rail museum in Delhi. A total of acres is allocated for the National railway museum which was established in the year 1977. You can actually check out more than a hundred real-sized exhibitions of Indian railways in the museum. Moreover, a few museums are also available.
Kingdom of Dreams
The Kingdom of dreams is one cool destination that you should certainly visit while exploring the city of Delhi. Being one of the exquisite destinations in the region, you should certainly visit the Kingdom of Dreams. There are museums, Damdama lake, Sultanpur national park, and more to explore around the city. If you love photography, it is essential to utilize the best time in museums and gear up to capture some of the historical monuments.
This is one of the top places you can visit and rely on the beauty of the sites around the World of dreams. Enjoy visiting at the right time. The location is very near to the Auditorium Complex and it is situated next to the IFFCO metro station. The timing is from 12.30 PM to 11.30 PM from Tuesday to Sunday. The price range is Rs.500 and on the weekend, you will have to visit the best places without any hindrances. You can enjoy the Zangoora and Jhumroo shows that are exceptional. 
Appu Ghar
Appu Ghar is one of the top places that you can visit as it is popular and the best spot to initiate your exploration. Being the very first amusement park of Delhi, Appu Ghar is named after the mascot of Asian games. You will get to relish a day in the amusement park as there are diverse spots to hang out with your friends and family. This is one place you can't miss out without any doubts. It is all about reaching the destination on time and exploring the place for a new experience. 
Jama Masjid
One of the top tourist destinations that one shouldn't miss out and here it is, Jama Masjid. It is a renowned mosque in the country and revisits the past as previously Delhi was called Shahjahanabad, capital of Mughal Empire till 1857. It is essential to know that it Jama Masjid is located in between Red Fort and Chandni Chowk. It shouldn't be a problem for tourists as they get to visit three historical monuments subsequently.
As we all know, there are so many historical monuments, including the Taj Mahal that elucidates the love for architecture among the Mughals. The mosque was constructed as the main place of worship when he established Delhi as the capital. More than 5000 laborers worked hard to construct this mosque. The mosque was rightly named Jama Masjid (Masjid e Jahan Numa) which means "a mosque that commands a view of the world". 
Rashtrapati Bhavan
Rashtrapati Bhavan is the most important place that you should visit without any doubt. It is one of the significant landmarks in Indian architecture. This spot is the president's official home which was previously the residence of the British Viceroy. It took nearly two decades to complete this architecture and the efforts of Lutyens.
Rashtrapati Bhavan is designed by one of the famous British architects in India. If you are interested in visiting the Rashtrapati Bhavan, you can start in the morning and ensure that you visit before 5 PM. The tourist attraction is closed on Saturday and Sunday. You can enjoy the day with your family.