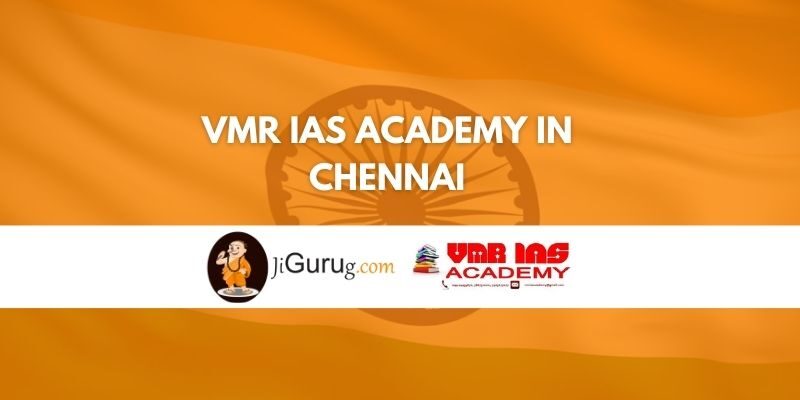 VMR IAS Academy in Chennai Review
VMR IAS Academy Course Offered –  UPSC & IAS Coaching
This academy will help you prepare for all the three levels required for the civil service examination – The preliminary exam, Main Exam, and the Interview. The civil service examination is for the topmost administrative jobs in the government and is one of the most competitive exams in India. It tests the aspirants on various aspects such as deep knowledge in various subjects, aptitude skills, language competency, creativity, empathy, determination, writing skills, analyzing skills, etc.
VMR IAS Academy Contact Details – 
Address: No.29, Sardar Patel Rd, Gandhi Nagar, Adyar, Chennai, Tamil Nadu 600020
Contact number: 073058 77077
Google Rating: 5 out of 5 stars
Features of VMR IAS Academy in Chennai –
Faculty: Some of the faculty members are:-
Avinash Dharmadhikar Sir (Ex-IAS, 1986 batch)
Lt Gen Dr. D B Shekatkar (retd.) Chaired Committee of Experts (Shekatkar Committee on Military Reforms)
Shri. Dr. Bhooshan Kelkar, MS, and Ph.D. in Artificial Intelligence, Former 'Country Manager' for university relations of IBM India
Past year result: Not disclosed by the academy.
Study materials: Study materials are totally on the basis of the latest updates.
Test series: As per our research and operation took various students we have come to know coaching provides the best learning experience interaction classes test service one and one guidance the students which makes the coaching of best in India.
Infrastructure: The infrastructure VMR IAS Academy in Chennai is fully maintained and furnished.
Fee structure: • Online/ Offline Blended Course (With Tab) Rs. 1,05,800/-
•Online/ Offline Blended Course (Without Tab) Rs. 75,800/-
•Online Live Interactive Course Rs. 40,0002

Batch size: The batch size of the academy is not so large. Small to medium size.
Benefits of VMR IAS Academy in Chennai-
Provides the latest updated study material to the students.
Limited batch size
Trained faculty team
Good infrastructure
Review of VMR IAS Academy in Chennai
Sathish Kumar – i went for enquiry the response was good and your material,really useful.
Ananth D – student friendly academy……………
like it………
Frequently Asked Questions About VMR IAS Academy in Chennai:
Q. How is the infrastructure & environment of VMR IAS Academy in Chennai?
Ans. VMR IAS Academy is having  very goof infrastructure and environment, every student can concentrate on their studies in that environment.
Q. Do VMR IAS Academy in Chennai provide tips & tricks beyond the syllabus to score better?
Ans. Yes.
Q. VMR IAS Academy in Chennai providing any study material? 
Ans.  Yes,
Q. How is VMR IAS Academy in Chennai better than the other Coaching Institute? 
Ans. Because VMR IAS Academy provide best coaching as the teachers are well educated and supportive, faculty is also good.
List of Best Coaching Institutes in Others-
List of Top Coaching Institutes in Other Cities –