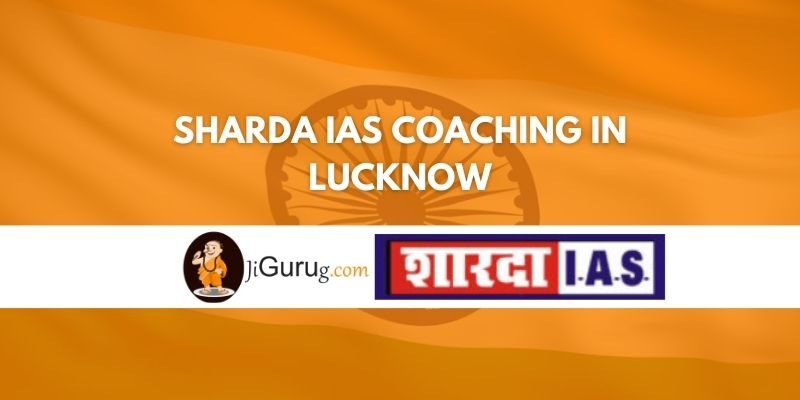 Sharda IAS coaching in Lucknow Review
Sharda IAS coaching Course Offered – UPSC & IAS Coaching
Choosing your own career path isn't just a game for everyone but what if there's someone to help us find a way into it. That would be much easier for everyone. So, we're here to guide you towards your best career choice in which you'll get every success you deserve.
We've described all the best IAS coaching centres in Lucknow in this page. Which will be helpful to you to choose what's best for you. And also which won't compromise your career opportunities as well. Here's in this article we've described about Sharda IAS coaching in Lucknow.
The faculty of this Institute is very helpful and motivate the students. The institute gives you the library facilities. Classroom of institute is fill with modern techniques. Doubt sessions is also conducted after completing of class. The institute also has the morning and evening batch, you can choose which will be comfortable for you and you need to work hard with interest in learning.
Sharda IAS coaching Contact Details – 
Address: Purniya Chauraha, Sector H, Sector-A, Aliganj, Lucknow, Uttar Pradesh 226024
Contact number: 094536 27059
Email: [email protected]
Features of  Sharda IAS coaching in Lucknow –
Fee structure: Not disclosed 
Batch size:  Small batch size for paying individual attention to each student.
Faculty: All the Faculty members are bright, well experienced and supportive they also pay attention to each and every student personally and they are highly qualified. 
Past year result: Past year result is acceptable it was 50%.
Study material: This academy provides all the comprehensive study materials and they are in detailed & it makes it easy to learn. 
Test series: They take tests frequently and also there are doubt clearing sessions after the test results got declared. 
Infrastructure: Infrastructure of this institute is the best in Lucknow. It has all kinds of advanced facilities for better learning.
Reviews of Sharda IAS coaching in Lucknow 
Pankaj Mishra – Personal guidance of abhay sir in all three phases (preliminary ,mains, interview)is very use full.
nidhi tiwari – Sharda ias is the best coching in the Lucknow
Abhay sir is the best teacher.
Frequently Asked Questions About Sharda IAS coaching in Lucknow:
Ques. What is the timing of Sharda IAS coaching?
Ans.
Monday

   

8 AM to 8 PM

Tueday

   

8 AM to 8 PM

Wedday

   

8 AM to 8 PM

Thursday

   

8 AM to 8 PM

Friday

   

            8 AM to 8 PM

Saturday

   

8 AM to 8 PM

Sunday

   

Closed
Ques. Is Sharda IAS coaching Lucknow the Best coaching for UPSC (IAS) in Hyderabad?
Ans. Yes, Sharda IAS coaching in Lucknow is one of the best institute which is trusted by many students to perform extremely well in the IAS exams. You can also take up a course and  make use of the best course to prepare nicely.
Ques. How is Sharda IAS coaching is better than the other coaching Academy?
Ans. Its better from other Academies because it provide study material and online classes. And we have experienced faculty. The learning environment and infrastructure makes our academy better than others. 
Ques. What is the admission process?
Ans. Via the Edvizo website or mobile app, you can get admission online from anywhere. Not only can this save you time, but also your money by collecting cashbacks and strong discounts. You need to visit our institute for offline entry.
List of Best Coaching Institutes in Others-
List of Top Coaching Institutes in Other Cities –