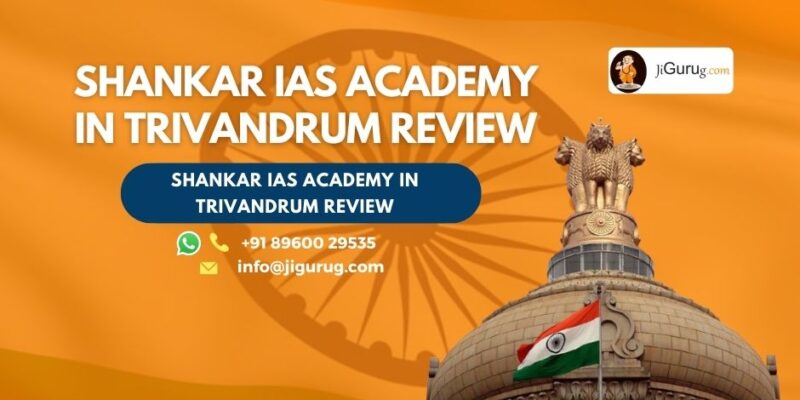 Shankar IAS Academy in Trivandrum Review
Courses offered by Shankar IAS Academy in Trivandrum – UPSC & IAS Coaching
Content
Write A Review
Shankar IAS Academy Contact Details – 
Address: 2nd floor, Condor Plaza TC 2/2421, Pattom Palace P.O MG Road, opposite Josco Jewellers, Thiruvananthapuram, Kerala 695004
Contact No: +9179949 36555
Google Rating & Review: 4.8 Stars out of 5 Stars (186 Google Reviews)
Google Direction of Shankar IAS Academy in Trivandrum
Shankar IAS Academy is Ranked 7th in the List of Top IAS Coaching Institutes in Trivandrum.
The Fee structure has not been disclosed by Shankar IAS Academy in Trivandrum.
| | |
| --- | --- |
| Details | Rating of Shankar IAS Academy |
| Student Reviews | 6.9 |
| Google Reviews | 7.4 |
| Batch Size | 7.3 |
| Batch Time | 7.1 |
| Infrastructure | 7.0 |
| Fee Structure | 6.8 |
| Past Year Result | 6.6 |

Click on the Whatsapp logo to join the UPSC Online Coaching.

Click on the Whatsapp logo to Join Offline UPSC Coaching in Trivandrum.
Features of Shankar IAS Academy in Trivandrum –
Fee structure:  Shankar IAS Academy has not been shared fees detail
Batch size: Nominal Batch Size
Faculty: Experienced Faculty
Study materials: Provide Test Series and Pendrive Course
Test series: Provide
Infrastructure: Good Infrastructure
Devi P – I am happy to have associated with Shankar IAS academy for both prelims as well as interview. The wide range of questions in prelims test series have helped me a lot in cracking prelims this time.Interview guidance programme at Shankar academy is comprehensive, covering multiple discussions,one on one sessions and mock interview, with panelists from diverse background.The best thing is that everyone at academy always give importance to feedback from aspirants and arrange classes or discussions according to the needs of aspirants.Thank you so much for the commitment.
Joe Davis – I am sincerely thankful to the team at Shankar IAS, Trivandrum for helping me to secure 20th rank in Stream-1 of the Kerala Administrative Service(KAS) exam, specially Leena Ma'am who is one of the best resource providers for civil service aspirants. Her suggestions and personal support helped me to secure top mark in the KAS Interview (35/50). Heartfelt thanks to all the staff at SIA for the support they have provided me- Sreejith, Anu, Hari, Lathika Chechi and JP chettan. One of the best aspects about SIA is their reading room. It's one of the most spacious reading rooms in Trivandrum. It provides an excellent ambience to study. I was there for almost 2 years, been part of their Mains Test Series and sessions by expert faculty and toppers. Basically, it's their classes and test series which provided me the knowledge to achieve success in KAS exam.
Malini Sree – I joined ShankarIAS for their Mains Test Series programme, which honestly surprised me with its sheer quality. The questions were spot on, the answer keys concise, and evaluation detailed. Every single sentence I wrote had a feedback attached to it. No superficial marks were awarded which made me work harder. I would also like to extend my sincere gratitude to the ShankarIAS (Trivandrum) team for conducting mock interviews every other week, which helped keep me on my toes. Thank you so much!
Advantages and Disadvantages of Shankar IAS Academy:
Content
Frequently Asked Questions About Shankar IAS Academy in Trivandrum:
How Good is Shankar IAS Academy in Trivandrum for the IAS Coaching in Trivandrum?
Which is the Best IAS Coaching in Trivandrum?
What is the Complete Review and Ratings of Shankar IAS Academy in Trivandrum, Kerala?
What is the Fees Structure of Shankar IAS Academy in Trivandrum?
Is Shankar IAS Academy Trivandrum the Best coaching for UPSC (IAS) in Trivandrum?
How Far is Shankar IAS Academy in Trivandrum from My Location?
What is the infrastructure of Shankar IAS Academy in Trivandrum?
The Prayas India Best IAS Coaching in Trivandrum
ALS IAS IAS Coaching in Trivandrum
Talent Academy in Trivandrum
Fortune IAS Academy in Trivandrum
iLearn IAS Training Academy in Trivandrum
The Prayas India Best IAS Coaching in Trivandrum
ALS IAS IAS Coaching in Trivandrum
Talent Academy in Trivandrum
Fortune IAS Academy in Trivandrum
iLearn IAS Training Academy in Trivandrum
The Prayas India Best IAS Coaching in Trivandrum
ALS IAS IAS Coaching in Trivandrum
Talent Academy in Trivandrum
Fortune IAS Academy in Trivandrum
iLearn IAS Training Academy in Trivandrum
List of Top Coaching Institutes in Other Cities –
Disclaimer – These rankings have been entirely on the basis of the research and analysis done by the JiGuruG team. We here at JiGuruG, solely declare that these rankings are free from all the external and internal influences and purely based on the study done by the JiGuruG team. If in case anyone is having concerns, please feel free to reach out to us at [email protected] (+91 – 9044613842)