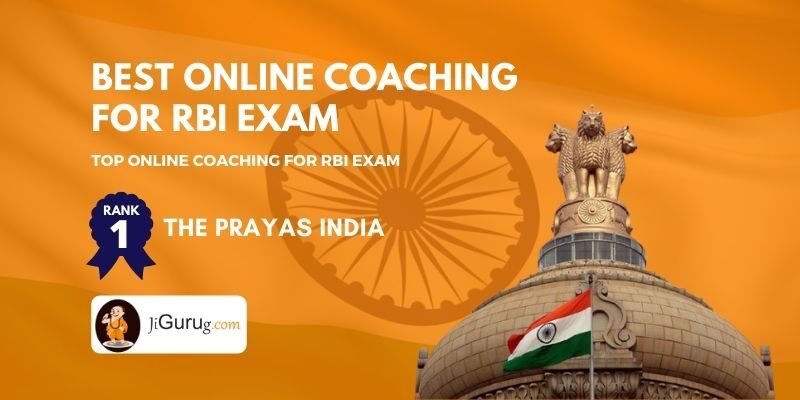 Online Coaching For RBI Exam
RBI EXAM
The Reserve Bank of India, popularly known as RBI organizes a national level competitive examination for recruitment of officers.
This examination is of a rather high difficulty level and is held in three phases just like the UPSC examination. The three stages are-
Preliminary Examination

 Mains

Interview round
Online Coaching For RBI Exam
For an aspirant it takes immense hard work and consistency to clear all the three rounds and grab a post as the RBI officer.
EXAMINATION APPLICATION
The application form for this examination can be filled online by visiting the official website of RBI Org. Top Online Coaching For RBI Exam. It is important to keep a check on the notifications and notices by the RBI for the release date of the application forms. You need to visit the official website and then fill in as a new registration. There you will find two different links for DR-General and DEPR./DSIM. Then you click on one of the links and fill in your details and then to the registered mobile number or e-mail the registration number and password are sent. Then you fill-in the documents asked for. The documents required are –
Photograph

Signature

Left-hand thumb impression

Handwritten declaration
The application fee is now to be submitted through one of the means listed and then you can download the e-receipt as proof of successful payment. Best Online Coaching For RBI Exam. Finally, you need to click 'Save and Next'.
After all this, you are done.
Once a candidate has filled the application form they now just have to wait for the admit-card, exam-date and keep on working hard.
ELIGIBILITY CRITERIA
The aspiring candidates must check the eligibility criteria regarding nationality, age limit and educational qualification before filling the application form. These are the criteria fixed by the RBI.
NATIONALITY CRITERIA–
A wanting candidate must be-

A citizen of India; or

A subject of Nepal or Bhutan; or

A Tibetan Refugee permanently settled in India since January 1, 1962; or

An Indian origin person migrated for Pakistan, Burma, Sri Lanka, Kenya, Uganda, Tanzania, Zambia, Malawi, Ethiopia, or Vietnam with the motive of residing in India permanently.

Candidates belonging to the last three categories must have appropriate and proper documents issued by the Government of India.
AGE LIMIT
On September 1, of the year of appearing in the examination, the candidate must be from 21 years of age to 30 years of age. However, for candidates having M.Phil. and Ph.D. the age limit exceeds 32 and 34 years of age respectively. For the Reserved Categories, the age limit is relaxed as per the rules of Government of India.
EDUCATIONAL QUALIFICATION
The educational qualifications differ slightly for the officer posts in RBI that you are applying for.
RBI EXAM NUMBER OF ATTEMPTS
The RBI Grade – B exam is designed with a high difficulty level and thus it seems fair to provide the passionate aspirants with a few numbers of attempts.

A GENERAL CATEGORY candidate can apply and appear 6 times for the Phase-I exam. After these 6 attempts, he/she is not eligible anymore.
However, for SC/ST/PWD CATEGORY candidates there are no such restrictions.

RBI EXAM ONLINE COACHING
From the time every business started shifting itself to the online mode; Education Business and Coaching Business too took this path and since then there has been no looking back. In today's time, you can find online coaching for any competitive examination that your name and such is the case with RBI GRADE-B Examination. There are a number of coaching institutes that provide online preparation courses for the RBI Grade-B Examination. But, you are all special and deserve the best so here we have brought for you the list of the BEST ONLINE COACHING INSTITUTES FOR RBI EXAM.

List of Best Online Coaching Institutes For RBI Exam
Rank 1st Best Online Coaching Institutes for RBI Exam
The Prayas India – Best Online Coaching For RBI Exam
"Success is where preparation meets opportunities" – Bobby Unser this is the belief of The Prayas India is the Best Online Coaching For RBI Exam.
The Prayas India is a big name in the coaching institute business and provides coaching in the form of online or classroom courses for almost all the nationwide competitive examinations including the RBI Grade – B Examination.
The Prayas India has grabbed many certificates and achievements down the lane of time. They have helped many aspirants paths to reach their goals.
For the RBI Examination, the Prayas provides online and classroom coaching. Live lectures three days a week is one of their plus points. They have an innovative and technology-driven technique that makes the preparation process simplified and easy.
They have been successful in their journey of excellent coaching and hence have enjoyed the best results.
For more information – https://theprayasindia.com/
Rank 2nd Top Online Coaching Institutes for RBI Exam
Oliveboard – Online Coaching For RBI Exam
Oliveboard is a very innovative and interesting educational exam preparation site. The main attractions of Oliveboard are enormous numbers of mock tests, test series, and conceptual learning. The most interesting part is that when you reach out for their website the first thing on the top you will see is "ATTEMPT RBI GRADE-B FREE MOCK TEST". This clearly explains the importance of tests, practice, and evaluation for their study tactics. They provide a complete course in two languages – English and Hindi. They keep in mind the 3 pillars of exam preparation – Learning, Practice, and Strategy. Live classes and Video lectures, Live practice sessions, and Strategy sessions are somethings more that they offer.
For the RBI Examination Oliveboard provides three different online packages. You can go through these and according to your requirement choose from the variety.
Rank 3rd Best Online Coaching Institutes for RBI Exam
anujjindal.in – Top Online Coaching Institutes For RBI Exam
Anuj Jindal has come up with an educational site of the same name anujjindal.in and an application on the Playstore named Infinity Exam by Anuj Jindal. Both of these are made for the sole purpose of helping the aspirants with their preparations. This site focuses a lot on doubt and problem solving. Anuj Jindal, the founder is an ex-manager form SBI and thus has more than enough experience and knowledge that is going to be apt for this examination.
The things they cover in their courses are as follows –
About RBI Exam
1.) Vacancy
2.) Eligibility Criteria
3.) Selection Procedure
4.) Application Form
5.) Job Profile
6.) Admit Card
7.) Courses
8.) Salary
9.) Syllabus
10.) Cut Off
11.) Preparation
12.) Online Videos
13.) Test Series
14.) Exam Analysis
15.) Result
They also have a plan where they provide free classes online and also, (topping on the cake) answer your queries.
Rank 4th Top Online Coaching Institutes for RBI Exam
Career launcher – Online Coaching For RBI Exam
Career Launcher is a big name in the online coaching business and has dedicated a complete division named Career Launcher RBI for the RBI Grade- B Examination preparation. They help students with a vision to create a strategy for success. Complete knowledge about the exam, exam pattern, syllabus, is provided, and also how to study for individual subjects is one of the sectors they put emphasis on.
How should a beginner start and what methods should be inculcated by freshers are also dealt with here.
For the RBI  Examination preparation, they provide 100+ live sessions having 250+ hours of teaching covering both Phases -I and Phase – II syllabus for the RBI Grade – B exam. A number of mock tests are prepared for practice and evaluation. Mock tests for each phase and each section are prepared so that no scope is left. Books and study materials apt for the best preparation are also provided.
Rank 5th Best Online Coaching Centers for RBI Exam
gradeup.co – Top Online Coaching For RBI Exam
Grade Stack Learning Pvt. Ltd. popularly known as Gradeup is India's largest online examination preparation platform. Their website and application help more than 1.1 crores registered students to prepare efficiently for their educational endeavors. They also have a YouTube channel of the same name that provides free guidance to aspiring candidates preparing for different examinations. NewsEd by Gradeup is an educational news portal by them which works to keep the students updated about all the happenings in the field.
For the RBI Examination preparation they have come up with a day-wise study plan; this will help to learn a little with concentration each day and there will be no rush of completing the syllabus. And, they also provide a FREE TRIAL of the RBI Grade – B: Complete Course. 250+ live classes for concept clarity, 200+ quizzes, 150+ PDFs for any time reference, 17 full-length mock tests, and 9000+ practice questions help for an efficient preparation plan. Quizzes of all difficulty levels, Revision classes, Sectional tests, and PDFs, and then Mock tests are their steps to follow when getting your exam ready.
Rank 6th Top Online Coaching Institutes for RBI Exam
edutap.co.in – Best Online Coaching For RBI Exam
EduTap is an online coaching website that ensures to teach each and everything that one aspiring student requires to clear the RBI  examination. In their RBI Coaching Program, they have prepared several courses depending on the different kinds of needs and specifications of the students. The course options are as stated below –
Phase – I Full Video course + Phase – II Full Video course
Full Video Course for Phase -II + Phase – I Mock Test
Complete Video Course for Phase – II
Phase – II Non-video Course + Phase – I Mock Tests
They provide FREE Study material for various competitive examinations, Previous year analysis, and upload blogs regarding these examinations.
24×7 Doubt Clearing ability and Regular Online Tests are some of the pros of EduTap.
For the RBI Exam preparation, their strategy is to provide the aspirants with hours of video content that are prepared to keep in mind the fact of covering everything in the syllabus in less time. Adding to the videos they provide corresponding study material, summary sheets of the study material, worksheets for application of concepts. Thousands of Multiple Choice Questions and unlimited doubt sessions help the aspirants to strengthen their understanding and hold on the subject.
Rank 7th Best Online Coaching Centers for RBI Exam
ixambee.com – Top Online Coaching For RBI Exam
ixamBee is an online learning company that provides the best-in-class technology-based online coaching to students. They believe that right now is the time of information overload and they strive to provide students with exam-relevant study material and preparation material to keep their region of hard work solely focused on the exam.
Next, for the RBI  Examination preparation online course consists of 700+ video lessons exam relevant, 1700+ practice questions, and 30 full-length practice tests, with DAILY LIVE LESSONS, 300+ study notes, 5 descriptive papers and adding to this they also give GUIDANCE FOR INTERVIEW. In addition to this, ALL MOCK TESTS are FREE here.
List of Top Online Coaching Centers for Other Cities –