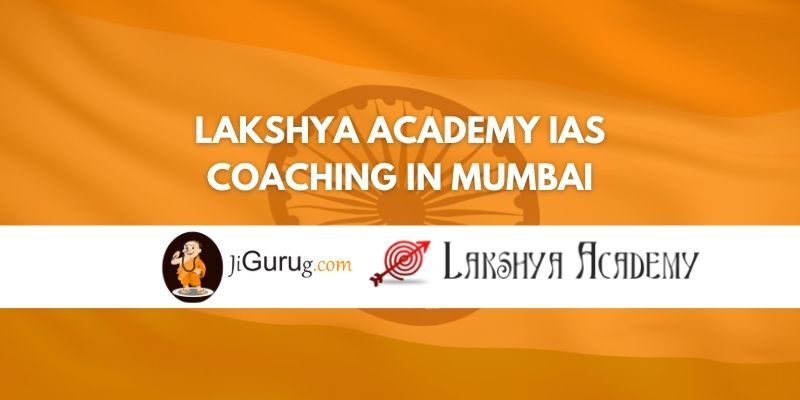 Lakshya Academy IAS Coaching in Mumbai
Lakshya Academy IAS Coaching in Mumbai has collected the resources to prepare the trained, able Administrators who have not forgotten their duty towards the social development. students here have an option to be part of the decision making group, grabbing the lion's share. As a top IAS coaching centre its main agenda is to train and prepare such young men and women and turn them into able administrators.
Lakshya Academy strives for more active part in this. The teaching sessions are very interactive by topnotch faculty who had a first hand experience of the examinations. The aim of Lakshya IAS Academy as Best IAS coaching centre is to provide qualitative training to the talented young mind and groom them to succeed in IAS, IPS, IFS competitive exams.
Last but most important is that Lakshya Academy IAS Coaching in Mumbai is fully aware of the change in the pattern and has incorporated these changes in the teaching pattern.
Lakshya Academy IAS Coaching Contact Details – 
Address: 21B,3rd Floor ,Om Swati Manor Coop Hsg Soc ltd, Near Plaza theatre ,J.K Sawant, Mumbai, Maharashtra 400028
Phone: 92232 09699
Website: https://lakshyaiasacademy.com/
Email: [email protected]
Google Rating: 4.6 out of 5.0
Features of Lakshya Academy IAS Coaching in Mumbai –
Faculty: 
Well qualified teachers
Cooperative with students
Study materials:
Up to date study material
With complete syllabus coverage
Test series:
Conducted regularly
Revisions several times
Benefits of Lakshya Academy IAS Coaching in Mumbai-
Organizes several workshops and seminars for the students.
Quality education is provided.
Very good results in the past years.
Different methods are used to teach the students.
Interactive discussions take place
Review of Lakshya Academy IAS Coaching in Mumbai
Krishna Kumar – One of the best classes in maharashtra. Really Lakshay classes always help all student in all problems like financial and personal problems also All facilities are well teaching. Really nice classes .
Pratik Mandhare – One of the best institute in Mumbai to prepare for competitive exams. Faculty and support staff are really helpful.
Yash Balle – One of the best Coaching Foundation class of upsc and mpsc i would recommend….i gain a better knowledge from these well experienced Faculty.
Tanishka Agre – Professors are excellent……. lectures are very interesting…..at the end you will acquire immense knowledge about every subject
Frequently Asked Questions About Lakshya Academy IAS Coaching in Mumbai:
Q. How is the faculty of Lakshya Academy IAS Coaching in Mumbai?
Ans. The faculty at the institute is top rated. the teachers are very encouraging and hard working in developing the bright future of the students. train the students very well.
Q. Lakshya Academy IAS Coaching in Mumbai provide any study material? 
Ans. The institute comes up with the very well developed study material which covers all the topics mentioned in the syllabus. and also learning through the study material is a quite simpler option for the students.
Q. How is Lakshya Academy IAS Coaching in Mumbai better than the other Coaching Institutes? 
Ans. The coaching institute is better than other coaching institute because it provides the young men and women with the opportunity to become successful administrative officers.
Q. Do Lakshya Academy IAS Coaching provide demo classes?
Ans. According to the information provided their is as such no demo classes provided to the students at the starting of the course. students have to join the course.
List of Best Coaching Institutes in Others-
List of Top Coaching Institutes in Other Cities –