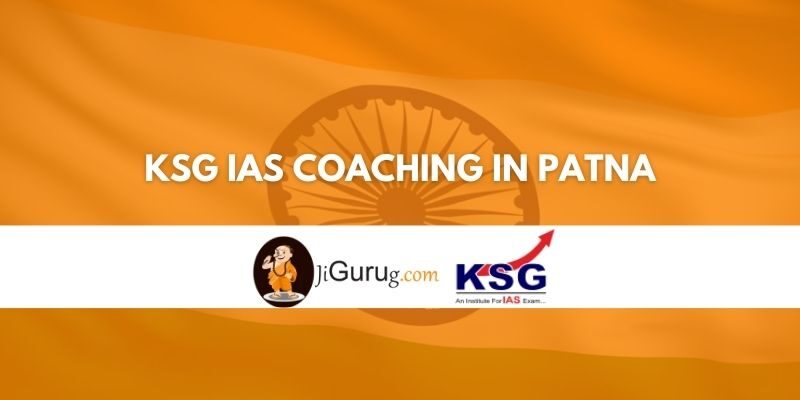 KSG IAS Coaching in Patna Review
KSG IAS Coaching in Patna is the best IAS Coaching Institute for General Studies and CSAT in India. Offering GS under the expertise of Dr. Khan & Team.
KSG IAS Coaching in Patna is passionate about your success in the Civil Services Examination (CSE). Our mission is to demystify the Civil Services Exam and help candidates to acquire confidence and competence to emerge successfully. the coaching makes sure that their guidance process makes the learning experience more easy and enjoyable.
the process is the culmination of the best minds to produce huge success stories. they make sure that the student's IAS preparation journey reaches the true destination.
At KSG IAS Coaching in Patna, we don't only share information we also share the experience. courses are well designed and updated with the fluctuating patterns of the examination.
KSG IAS Coaching Contact Details – 
Address: Exhibition Rd, Above Toyota Showroom, Old Jakkanpur, Dujra Diara, Patna, Bihar 800001
Phone: 074639 50774
Website: https://www.ksgindia.com/about-us
Features of KSG IAS Coaching in Patna –
Faculty: 
Great faculty and staff members
Study materials:
Material for learning is provided
Test series: 
Various tests are scheduled and conducted
Assignments are given regularly
Infrastructure:
Review of KSG IAS Coaching in Patna 
Ashraf Khan – what i found is that it is one of best institute to be a part of.Very helpfull teachers,staff and management.The type of personal care which every individual student gets from here is unique.Whole system works hard for us.
Priyansh kumar savita – I found KSG as one of the best faculty till now because as they are providing PPP Program which helps the freshers to understand the the syllabus and types of questions asked in the upsc exam.I think i will have a Great Journey Ahead.
Twinkle Chaudhary – KSG is providing quality education in Patna for UPSC CSE. No need to go for coaching institutes in Delhi ,you can complete your study at the comfort of your home. Pre Preparation Plan Tests are true guidance and a mirror to show your potential at the very beginning so that you can improve yourself.Best coaching institute for GS preparation. Staffs are of very good behaviour and very friendly.
Saloni singh – KSG is among top 5 institution for ias preparation. And now it's here in patna to help students who can't go to delhi for their preparation. This is great opportunity for all of us who are preparing for IAS to prepare in guidance of KSG and their top educator.
Rishika kumari – The class room is well maintained for the right environment. Student would feel energetic attending the whole course. The teachers are based from Delhi. The writing skills test and the daily PT pattern test would definitely keep motivated to all the students for the right direction towards cracking the goal.
Benefits of KSG IAS Coaching in Patna
The students are their first priority.
 Queries are solved regularly on a priority basis.
 Regular tests for preliminary preparation are conducted along with answer writing practice.
 Special guidance for skill writing for mains.
 The admission will be done on first-come-first-served
Frequently Asked Questions About KSG IAS Coaching in Patna:
Q. Why students should choose KSG IAS Coaching in Patna?
Ans. Students should choose KSG IAS Coaching in Patna because they provides the best guidance process which makes the learning experience more comfortable and enjoyable.
Q. Do KSG IAS Coaching in Patna provides the study material?
Ans. Yes , KSG IAS Coaching in Patna provides the best study material in both English and Hindi language to the students on regular basis in order to keep them updated about world happenings.
Q. How is the faculty at KSG IAS Coaching?
Ans. Expert faculty members are a part of the coaching institute. they provide the students with the best guidance and uses best methods to teach the students.
Q. KSG IAS Coaching in Patna provides any test series to the students?
Ans. Yes, KSG IAS Coaching in Patna provides test series to the students which includes power tests also which provides all the relevant information regarding the UPSC exams.
List of Best Coaching Institutes in Others-
List of Top Coaching Institutes in Other Cities –