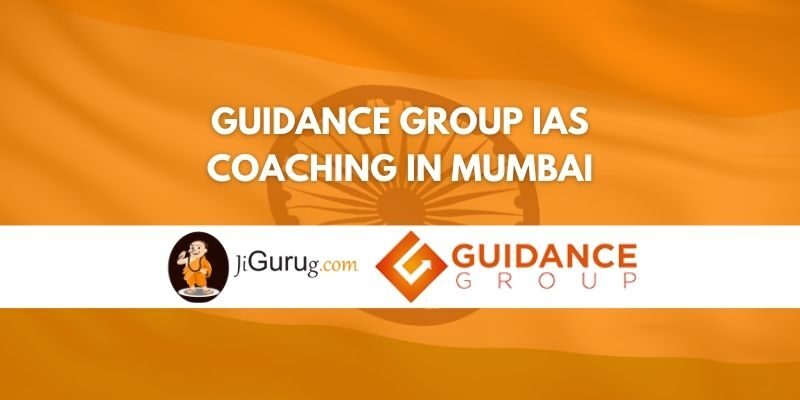 Guidance Group IAS coaching in Mumbai
Guidance Group IAS coaching in Mumbai is a institute of faculties who have been indulged in Civil Service preparation for the last 6 years and have been contributory for the success of many candidates in their Civil Service Examinations.
The institute offer in- depth and quality training to aspirants coming into sight for Civil Service Examination conducted by the Union Public Service Commission.
Guidance Group IAS coaching in Mumbai also Guides and helps every possible aspirants to achieve their desired goals.
Guidance Group IAS coaching Contact Details – 
Address: 1st Floor, Mukund Mansion, Ranade Rd, opp. Nakshatra Mall, Dadar West, Mumbai, Maharashtra 400028
Phone: 99207 36752
Website: http://guidancegroup.co.in/
Google Rating: 4.8 out of 5.0
Email: [email protected]
Features of Guidance Group IAS coaching in Mumbai –
Faculty: 
Dedicated and encouraging teachers
Highly qualified
Study materials:
Learning material is provided
According to the syllabus
Test series:
Regular tests are conducted
The practice of the students is good
Batch size: 
Small batches
30 – 35 students approx
Benefits of Guidance Group IAS coaching in Mumbai-
The institute follows the batch size which contains 30-35 students approx. it allows the teacher to focus on students individually.
Counselling sessions are provided to every student.
Regular Tests are conducted to make the students more confident about their preparation.
Claims to complete the syllabus on time so that students get enough time to revise the syllabus.
Review of Guidance Group IAS coaching in Mumbai
Jyoti Saindane – Faculty is easily Accessible…. passionate…. supportive and Encouraging. Timely mock tests will help to know yourself. As classroom teaching play a crucial role you can clarify your doubts with faculty there and side by side you will feel the essence of competition and a glance of where you are weak in comparison to others. Fees is also less in comparison to the other known institutes. It's a complete Package.
Ajay Sonawane – From Day 1 the faculty will teach u from the scratch and as the day passes u will become more better person and u will see yourself as best person as the day passes. Faculties also give u life lessons so our approach towards seeing life and things changes in a positive manner.
Must join this institute.
satish singh – It's best class I found for my daughter. Best part is they do counselling before enrolling in class. How much time it will be required to clear the exam and How much efforts is required to clear it. The complete idea is giving without manipulating the facts.
My daughter got enroll in banking course. What is different from other class I found is duration they give and honest approach for exam. Fees is little higher then other but it's worth.
Frequently Asked Questions About Guidance Group IAS coaching in Mumbai:
Q. How is the faculty and teaching style of Guidance Group IAS coaching in Mumbai?
Ans. The teachers at the institute are very supportive and encouraging to the students through out their journey. students if facing any difficulty can clear with the teachers. and the teaching pattern includes several tests so that students are well prepared for their exam.
Q. Guidance Group IAS coaching in Mumbai provide any study material? 
Ans. Yes, the institute also provides the students material to study so that they learn only the topics related to exam and which are important part of their syllabus.
Q. How is Guidance Group IAS coaching in Mumbai not similar to other Coaching Institute? 
Ans. The institute is not similar to other coaching institute because it provides the students with the best guidance related to the Civil Services Exam.
Q. Do Guidance Group IAS coaching in Mumbai provide counselling session?
Ans. Yes, the students at the institute are provided with the face to face counselling before starting the course which is a very good feature of this institute.
List of Best Coaching Institutes in Others-
List of Top Coaching Institutes in Other Cities –