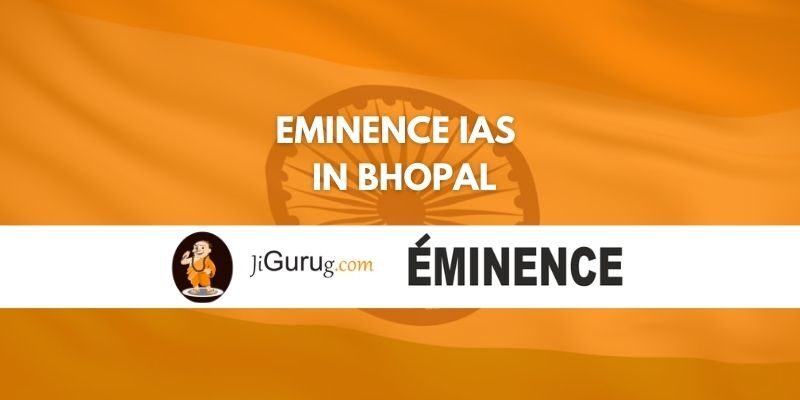 Eminence IAS Coaching in Bhopal
When it comes to chose what's best for our career, it becomes important to us to choose the best. Eminence IAS Coaching can become your best choice. Because, it has the best faculties who are well educated and supportive and experienced also it has good facilities as well, They also provide study materials, they cover the whole syllabus which saves plenty of time for revision sessions.
Thus, Eminence IAS Coaching institute believes in learning through better ways and this is what makes Eminence IAS Coaching institute trustworthy.
Eminence IAS Coaching Contact Details – 
Address: 25, New MLA Quarter, 2nd floor Near Unique College, Jawahar Chowk, Bhopal, Madhya Pradesh 462003
Phone: 098262 17502
Features of Eminence IAS Coaching in Bhopal –
Fee structure: 40000/year
Batch size: 50-60 UPSC, 70-80 MPSC for giving individual attention to each and every student.
Faculty: well educated and experienced and highly skilled faculty members. One of them is, Manoj Bhargava  Sir.
Past year result: was acceptable and it has evolved since them each year this institute learns something from past year results which makes it more effective.
Study materials: provided by them. They are highly efficient and helpful to students.
Test series: They conduct weekly or monthly tests accordingly and all subjects tests are being conducted by them. Doubt solving sessions are held afterwards.
Infrastructure: It is pretty good and decent. AC classrooms and well developed library for students are there.
Advantages and disadvantages of Eminence IAS Coaching
Advantages; 
– Good Infrastructure
– Past Year Result
– Good Teacher Provided
– At Affordable fee
– Best Batch Size
Disadvantages: 
– no online tests are available
– E- lectures are available but they are uncertain
– Not fully updated study materials are given
Reviews of Eminence IAS Coaching in Bhopal
Gunjan Pandit – The institute clears basic concept and provides clear facts about syllabus mentioned in competitive exam. Chronological and logical examples for full coverage of syllabus. Expert faculty r there to guide the aspirant.
Ankit  Singh – I recently joined eminence coaching and had a quiet a good experience here.sir teaches well.he takes enough time to explain topics.if you are looking for institution which provides good quality of education and guidance for your civil services examination then must join.
Frequently Asked Questions About Eminence IAS Coaching in Bhopal:
Q. How is Eminence IAS Coaching for study?
Ans. Eminence IAS Coaching is ranked 4th by Jigurug and it isn't bad for students. It gives proper guidance and support to the students and also they teach every lesson with appropriate examples and chronological views which makes it easier for the students. Infrastructure is also good enough. Past year result was okay but it was acceptable. Eminence IAS Coaching institute also provide Hindi medium course.
Q. What are the google reviews of Eminence IAS academy?
Ans. Google has gives 4.6 out of 5 stars with 42 reviews. Which is not so bad for enrolling into Eminence IAS Coaching. It is one of the bests.
Q. What is the batch size of Eminence IAS Coaching?
Ans. A normal batch size is 100-150 for IAS coaching but Eminence IAS Coaching has maintained 50-60 for UPSC and 70-80 MPPSC. which is admirable because this way professors can pay attention to each  and every student.
Ques. What is the fees structure of Eminence IAS Coaching?
Ans. Rs. 40,000 for A Year.
Ques. What is the pros of Eminence IAS Coaching?
Ans.
● Good Infrastructure
● Past Year Result
● Good Teacher Provided
● At Affordable fee
● Best Batch Size
List of Best Coaching Institutes in Other Cities –