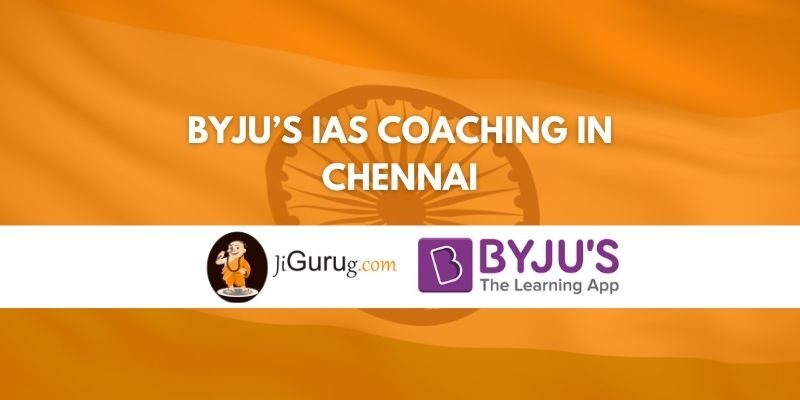 BYJU's IAS Coaching in Chennai Review
BYJU's IAS Coaching Course Offered – UPSC & IAS Coaching
One of the premier Civil Service Training Centers in South India is' BYJU 'S IAS Coaching Academy in Chennai. Tablets (7 inches or 10 inches) with video lectures and weekly Current Affairs updates will be provided to all enrolled students to allow for a diverse and interactive experience. Our experienced Delhi faculty will also provide customized notes along with comprehensive training tips and tricks to incorporate UPSC training seamlessly into the busy lives of both working professionals and students. Our Chennai center currently only accommodates weekend batches and our batch sizes are small to ensure students get hands-on mentorship. Aspirants can hit us for more information on 9739018253 or come down to our Adyar hub.
BYJU's IAS Coaching Contact Details – 
Address: 1, Kasturba Nagar 3rd Cross St, Gandhi Nagar, Adyar, Chennai, Tamil Nadu 600020
Contact Number: 097390 18253
Email – [email protected]
Google Rating: 4.4 out of 5 stars (14 Google Reviews)
Features of BYJU's IAS Coaching in Chennai –
Faculty: The names of the faculty at our IAS Coaching Centre is given later in the article.

Past year result: Rank 03- Pratibha Verma, Rank 06- Vishakha Yadav, Rank 08- Abhishek saraf
Study materials: Best study material is provided by BYJU's IAS Coaching.
1 Tablet (either 7 inches or 10 inches)
16 GS + 1 CSAT Book materials with contents from Authors like Laxmikant, Bipan Chandra, Majid Hussain etc & compiled by BYJU'S
Personalized Notes from Faculties & Experts (Hand-written/Printed) will be given to the Students before the Classes commence.
Monthly Schedule will be given to the students for suitable planning
Test series: BYJU's IAS Coaching take practice tests and ace the Civil Services Exam. BYJU'S IAS Coaching Institute conducts weekly tests (MCQs and subjective) along with an All India Prelims & Mains Test Series – 20+ tests for GS and CSAT for which rankings will be given. All India Prelims & Mains Test Series – An exclusive schedule covering CSAT & GS Papers will be followed which consists of 20+ Tests for both Prelims & Mains and rankings will be provided on the same.
Added to this, Weekly Test (1 Hr Duration) – On the Portions Covered (both Subjective & MCQ's) conducted every Saturday.
Infrastructure: The infrastructure of the BYJU's IAS Coaching is well maintained and the classes are in good condition the environment of BYJU's IAS Coaching is very nice and good.
Fee structure: The fee structure of IAS Target Batch is  Rs 85000/-
Batch size: The batch size of the academy is large. There are more than 86 students in one batch.
Benefits of BYJU's IAS Coaching in Chennai-
Trained Faculty team
Provide excellent study materials
Regular tests are conducted
Affordable fee structure
Review of BYJU's IAS Coaching in Chennai
Indresh Murli – Tablet course is designed to study at our convenient place to pursue the dream of IAS. Fees structure is comparably affordable to other highly named institutions. Instead of pouring lakhs of rupees at one shot. The Emi scheme is hugely accepted by the major crowd across the country.
Joel Mario – Classes are taken by Faculties from Delhi. Very limited aspirants per batch so there is better connectivity with the faculty.
Sujatha Ethirajan – Pls dont join Byjus….Very worst experience i got from Byjus… No proper response from them… jabez (manager he told)… Trying to cheat our money 2k(told yesterday-monday itself thy will transfer our amt 2k, but still nw i didnt receive our money or any calls frm thm…)not picking our calls…nearly tried 30times… So guys pls dont join here… Other local coaching center is gud wen compare to Byjus…pls dont waste ur money
Today(08/12/18) mr.siva called me and threathend me…
MORE CONVERSATION IS THERE… WILL UPDATE TOMORROW… ALSO I HAVE AUDIO WITH ME…THE WHOLE CONVERSATION WHICH I HAD WITH JAGADESH, CENTER MANAGER JABEZ AND FRM HEADOFFICE SHIVA FRM BANG.
Pls chk ther other websites… I hve updated more conversation… Also chk consumer complaints , facebook…
ByjusClasses
Byju's Learning App
Byju's Class
Pls guys before joining byju's pls Chk extramarks reviews and decide… Extramarks reviews is worth than byju's…
Frequently Asked Questions About BYJU's IAS Coaching in Chennai:
Q. How is the infrastructure & environment of BYJU's IAS Coaching in Chennai?
Ans. According to the research, the BYJU's IAS Coaching has a very well maintained infrastructure, and the environment of the BYJU's IAS Coaching  is also very good and nice.
Q. Do BYJU's IAS Coaching in Chennai provide tips & tricks beyond the syllabus to score better?
Ans. Yes, BYJU's IAS Coaching provides tips and tricks which help the students to score better in the exams, and with that tips and tricks, they also can enhance their knowledge.
Q. What are the class timing of BYJU's IAS Coaching? 
Ans.  BYJU'S IAS Coaching Centre runs only the Weekend Batches- and timings of those batches are:-
 Saturday – 2 PM to 7 PM
Sunday – 10 AM to 6 PM
Q. BYJU's IAS Coaching in Chennai providing any study material? 
Ans. Yes, BYJU's IAS Coaching provides study material for the students which helps the students really well.
List of Best Coaching Institutes in Others-
List of Top Coaching Institutes in Other Cities –