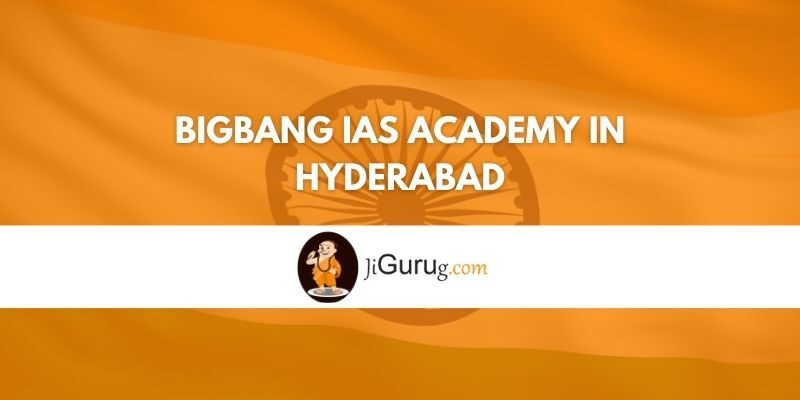 Bigbang IAS Academy in Hyderabad Review
Bigbang IAS Academy Course Offered – UPSC & IAS Coaching
Bigbang IAS Academy in Hyderabad is one the best academy in Hyderabad which provide Coaching to the students. All teachers are highly qualified. They have experience of many years. Help the students, motivate them in achieving their goal. Infrastructure of Bigbang IAS Academy in Hyderabad is good. Bigbang IAS Academy in Hyderabad provides affordable and quality coaching for students from various strata of society. Academy is a little bit different from other Academies because Bigbang IAS Academy in Hyderabad follows a practical approach to teaching. Academy provides online classes.
To provide a competitive edge to the aspirants through proper guidance and support to tackle the competition at all stages of civil services examination. Doubt sessions are also conducted after the class. Choosing the institute is a must for government exams when you choose the best institute for your coaching you will definitely achieve great success in your life, Bigbang IAS Academy in Hyderabad will be the best institute to start your coaching with the help of this institute and you will reach the great height in your life.
Bigbang IAS Academy Contact Details –
Address:- Near Sudarshan theatre, RTC Cross Road, Himayatnagar, Hyderabad, Telangana 500020
Contact Number:- 8341391714
Email:- [email protected]
Features of Bigbang IAS Academy  in Hyderabad–
Faculty:-  Best staff with good qualification.
Keshav Reddy
Subject: Maths
Experience: 5 year(s),
Narasimha
Subject: Geography
Experience: 29 year(s)
R Chandra Mouli
Subject: Economy
Experience: 3 year(s)
Fee structure:- The fee structure of Bigbang IAS Academy is much normal and affordable in comparison with any other IAS coaching in Hyderabad.
Past year result:- The past year results have got very less rating which means the success rate might be trivial.
Batch size:- The  batch strength would be less which helps the students to prepare well for the exams under the regular examination of teachers.
Test series: Bigbang IAS Academy also conducts tests. On the basis of the test teachers get to know about the performance of students.  And found out where they are lacking.
Benefits of Bigbang IAS Academy in Hyderabad-
Study materials of all subjects are given
Notes are provided online as well as offline
Small batch size
Good infrastructure
A regular online quiz is conducted
Test series of Prelims and Mains are given
Frequently Asked Questions About Bigbang IAS Academy in Hyderabad-
Q. What is the admission process of Bigbang IAS Academy in Hyderabad?
Ans. You can get admission online from anywhere through Edvizo website or mobile app. This will not only save your time but your money too by earning cashbacks and heavy discounts. For offline admission, you need to visit our institute.
Q. Do Bigbang IAS Academy in Hyderabad provide tips & tricks beyond the syllabus to score better?
Ans. Yes, according to our research we come to know from various students that Bigbang IAS Academy  provides impressive tips and techniques beyond the syllabus to score better.
Q. Do Bigbang IAS Academy in Hyderabad provide any online classes?
Ans. Yes, Bigbang IAS Academy provide online classes. Bigbang IAS Academy not only providing online classes but also conduct online doubt sessions for the  students.
Q. How is Bigbang IAS Academy in Hyderabad is better than the other coaching Academy?
Ans. Its better from other Academies because it provide study material and online classes. And we have experienced faculty. The learning environment and infrastructure makes our academy better than others.
List of Best Coaching Institutes in Others-
List of Best Coaching Institutes in Other –
Best IAS Coaching Institutes in Kanpur
List of Best Coaching Institutes in Others-