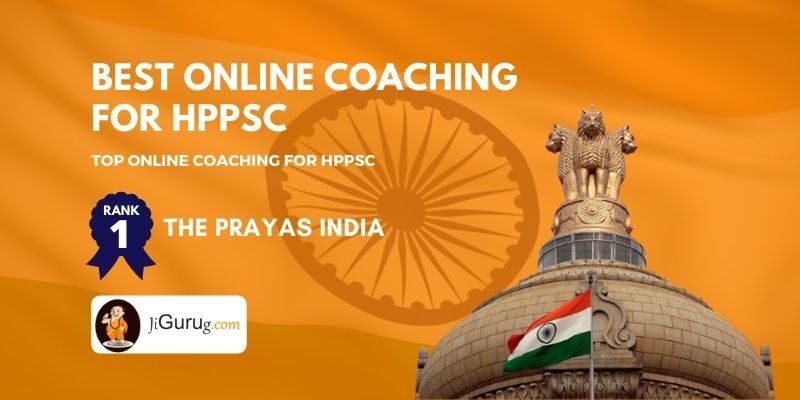 Best Online Coaching for Himachal Pradesh Public Service Commission Examination
ABOUT HPPSC EXAMINATION
Himachal Pradesh Public Service Commission is also known as HPPSC is a constitutional body that was formed after Himachal Pradesh attained statehood. Himachal Pradesh attained statehood on 25th January 1971; later the state got its own Public Service Commission.
HPPSC is an independent and impartial Constitutional authority set up under article 315 of the Constitution of India and has to follow the duties and functions stated in the article. All matters relating to the framing Recruitment and Promotion rules, principles to be followed in making appointments, promotion and transfer from one service to other and matters of disciplinary actions concerning the Civil Servants are advised to the State Government by HPPSC.
The examination conducted by Himachal Pradesh Public Services Commission is known as the Himachal Pradesh Administrative Services Examination. Also, conveniently known as HPAS Exam.
As the name suggests the candidates who clear the HPAS Examination are recruited as administrative officers and work under the guidance of IAS officers.
The departments where these administrative officers get to work are – Land, Revenue, General Administration, Agriculture and likes.
VACANCIES OFFERED BY HPAS-
The HPAS exam is held for the vacancies of the following posts-
1.)Himachal Pradesh Administrative Service
2.)Himachal Pradesh Police Service
3.)District Controller
4.)Block Development Officer
5.)Assistant Registrar
6.)Tehsildar
List of Top Online Coaching Institutes For HPPSC
Rank 1st Best Online Coaching Institutes for HPPSC
The Prayas India – Best Online Coaching For HPPSC
The Prayas India is a big name in the online learning market and is indeed worth the fame. They have received many certificates and awards for their excellent work and marvelous results. They have a very thoughtful and technology-driven way of online coaching. With online classes, live sessions, doubt sessions, various test series, study materials as pdfs, and study videos they make it sure that their students are provided with everything necessary for best preparation and success in their endeavors.
Rank 2nd Top Online Coaching Institutes for HPAS
Unacademy – Online Coaching For HPPSC
Unacademy is India's largest learning platform. It is definitely a name that crosses our mind when we think or talk about the online coaching for any literally any competitive examination and hence, they also provide online learning for HPPSC from the best of India's professors. They provide you with a schedule that is followed and hence you have your planner beforehand so that you can prepare for the next day. Their study videos, study materials and test series are very helpful and exam relevant.
Rank 3rd Best Online Coaching Institutes for HPPSC
GRADEUP – Top Online Coaching Institutes For HPPSC
Gradeup provides a full-overall package for online preparations. Interactive online live classes is their core step towards good learning. It helps students to understand the concept step by step and doubt classes are organized to clarify any problem or confusion being faced by the students. Practice tests and mock tests are prepared and evaluated to keep the students informed about their progres. Experienced faculty is their major plus – point.
Rank 4th Top Online Coaching Institutes for HPAS
STUDYIQ – Online Coaching For HPPSC
StudyIQ provides types of courses like Smart Courses, Pendrive Courses and Android courses. Free PDFs and free videos are available here. Their Pendrive courses are quite impressive. It includes videos, PDFs, study materials, can be accessed anytime and anywhere and cost-effective. They also provide demo videos so that you can have a look and then take your step. Best study material is provided here by the best of Indian faculty.
Rank 5th Best Online Coaching Centers for HPPSC
Mrunal app – Top Online Coaching For HPAS
Mrunal.org is an online learning platform created by Mrunal.  He provides complete information, strategy and learning for the examination. The teaching is completely done in the online mode and also enough study materials are provided henceforth.
Rank 6th Top Online Coaching Centers for HPPSC
Nimbus IAS – Best Online Coaching Institutes For HPPSC
First of all, Nimbus academy's strategy is to make the students prepare in a planned manner and thus they have a full-frame strategy to do so. Their course is made in such a way that each student is able to cover each and every topic. Also, they have a very impressive variety of test series so as to not miss anything in the preparation. They provide subject-wise tests, Himachal Pradesh GK – tests, Current affair tests, General studies Pre-tests and CSAT tests in their package for HPPSC Examination preparation course.
WISHING LUCK TO ALL THE HPPSC ASPIRANTS!
List of Top Online Coaching Institutes for Other Cities –