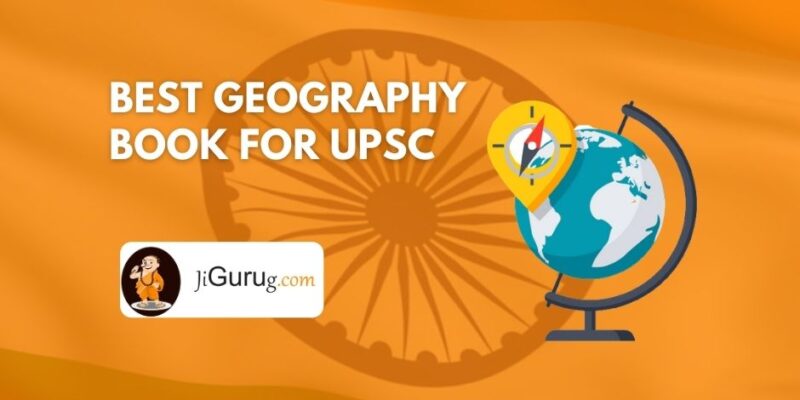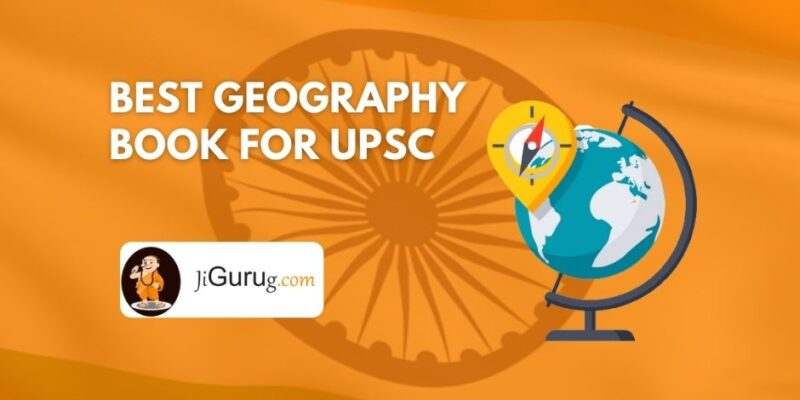 Best Geography Book for UPSC Optional IAS Exam – Complete List
Geography is one of the renowned subjects in the UPSC examination and many students have chosen this as an optional subject due to numerous reasons.
You will find that many of the students who took Geography as an optional subject scored more marks and also topped the UPSC mains exam. Although a few candidates' default choice remains Geography, many candidates do not take up Geography as an optional subject. You will find everything about the Geography optional subject and also check out the books that you require for Geography preparations.
Books that aid your Geography Optional subject preparations 
The first book you have to choose is Certificate Physical and Human Geography by Goh Cheng Leong. You will get to know all about physical and human Geography which are the major topics in the UPSC mains Geography syllabus.
It is bifurcated into two major categories: physical, Geography, and global climatic zones of the steppe, Mediterranean, equatorial, Savannah, and the tropical monsoon climate as well. To make learning easy, the author has inculcated pictographic representation and illustration. Moreover, maps are also enclosed in books to help students understand more about the subject. You can use this book for preliminary exams as well as mains exams.
Topics such as agriculture, types of rainfall, glaciers, climate change, mountain chains, climatic patterns, minerals or other natural phenomena, and deserts, are very important and you can utilize this information to prepare for the UPSC mains exam.
When it comes to the book, you will be able to understand it easily as the language is average and the page quality, as well as the printing, is top-notch.
Majid Husain Geography of India
This book is elaborative and precise which helps you to understand the concept easily. The author has written in an easy language that can be understood by everyone. The book contains nearly 900 pages and you will definitely understand all the information in a clear manner. You will be able to read the topics such as public distribution, system cropping patterns of India, resources of India, seasons, drainage system, wildlife, irrigation types, transportation, and food security. 
Majid Husain World geography
This is yet another book of Majid Husain and you will get to know about the world Geography where the previous book is bound to a certain country and this book has all the information about the world Geography. The language is simple and it is very similar to a theoretical atlas. The author endeavors to provide all the information that helps you to understand the Geography of various countries across the globe.
You will also get additional information regarding the distribution of people over the globe and concentrates on diverse geographic regions in the world you will get to know about the regions like Antarctica, Oceania, South America, middle America, North America, Europe, and Central Asia, East Asia, South Asia, Southeast Asia, Southwest Asia, Asia, Southern Africa, West Africa, West Central Africa, North Africa, Northeastern Africa, and Africa.
RC Chandni Geography of population 
This book is a great addition to your UPSC mains preparation and the reading will be easier as the language used in the book is simple. For those who have chosen Geography as an optional subject, this book is definitely not an option for you to leave behind. You will be able to finish chapters like birth and death rates, international labor movements, population (distribution and density), sources and consensus of population, migration settlement patterns, and demographic aspects.
D R Khullar physical Human and Economic Geography for civil services examination
It is a good book for everyone who wants to score more in Geography optional subject as it is completely based on civil services exam preparation and Unlike other books mentioned above, this book is specifically crafter for UPSC exam preparation system you will get to read physical Geography human and economic Geography in the later part.
The important characteristics like maps, diagrams, and charts are also inculcated in the book. You will be covering topics like transport and communications, manufacturing industries, minerals and energy resources, economic activities, natural resources, migration, settlements, population, hydrosphere, the atmosphere, and the lithosphere and the universe, the solar system and the earth.
Other books you can refer to for Geography optional subject
Geography Paper 1
Majid Husain – Author 
Agriculture geography

Human geography

Evolution of geographic thought
Geography Paper 2
Agriculture geography

Geography of India

Human Geography 
RC Chandna book for Geography optional subject preparation
For paper 1, you can refer to environmental awareness and for paper 2, you can refer to the same along with the Geography of the population from the same author.
Other authors book 
Savindra Singh books or for Geography paper 1 preparation and you have to check out 3 books such as physical Geography geomorphology and environmental Geography of the same author. 

Chand and puri regional planning in India is one book that you can refer to for both paper 1 and paper 2

R Ramachandran urbanization and urban systems in India is one book that you can refer to for Geography paper 1 and paper 2.
Advantages of choosing Geography optional
There are several advantages in choosing Geography and first is that it is the scientific subject and people from the science domain will certainly go for this subject and this is the reason for Geography optional subjects popularity.

When it comes to Geography optional, you just have to understand the constant instead of memorizing each and every line in the textbook.

For Geography, you have tremendous study materials, textbooks, and references which completes your preparation and you can also obtain more knowledge when you complete learning.

Moreover, candidates can also utilize the concept and in Geography optional subject to finish the essay paper as there will be several topics.

While preparing or writing the Geography exam, the concepts are straightforward and there will be no interpretation. You can elucidate in your ideologies and the available information in a precise manner along with the diagrams flow charts and maps which enhances your chances of scoring more marks.

You should also remember that the competition is more in Geography optional due to the above reason. And the syllabus is also extremely useful which may take most of your time in the preparation. So plan accordingly and complete your IAS mains preparation soon.
Strategies you can use while preparing for geography
As said earlier it is definitely hard for the candidates to complete the huge syllabus of Geography optional subject. Here we have a few techniques that you can utilize while learning for the UPSC mains exams especially Geography as an optional subject. 

Generally, Mains optional papers will require you to attend 5 questions out of 8 and you have to select the right question for which you know the answers. When it comes to Geography, the answers will be long and you need to pick the questions wisely. You have to plan accordingly and finish each and every question with a proper introduction and conclusion. It is not about how much you write but a proper format with elucidating the points is important.

For many questions, there will be a subdivision and select the queries that have the subdivision. Also, ensure you are ready to write answers for the subdivision in a precise way and pick those questions for which you know all the subdivision answers.

Maps are a better way to score more marks effortlessly. So ensure that you choose map based questions and also study in detail about the geographic locations of the country and across the globe so that you can score the maximum marks in map-based questions.

Try bringing in other subjects if you are well aware of the fact that you can include the topics in your answers. Portions from general studies economics and many subjects can be inculcated in your answers for Geography optional subjects and ensure that you bring current affairs as well. 

Make use of case studies examples and figures to clearly explain your answers and also make it to the point that you want to emphasize. You can add pictographic representations like graphs also to enhance how your answers appear to the examiner.

Make use of related theories to strengthen the basics and also consistently practice writing. It will increase your speed and you can remember the topics in the long run. You can also go through magazines after completing your preparations with the NCERT textbooks and other famous author's books. you should completely finish reading the Geography syllabus for scoring more marks and plan a strategy according to that.
Important topics that you have to learn in Geography
Geomorphology is the first topic which you have to start with. It comprises of several subtopics but the important topics include Origin and evolution of the earth's crust, Continental drift, Endogenetic and exogenetic forces, Plate tectonics, Channel morphology, Geomagnetism basics
Attributes limiting landform growth, Earthquakes and Tsunamis, development of Slope, Geomorphic cycle Concepts and Landscape growth, Isostasy, Erosion surfaces, Geohydrology, economic geology, and environment and finally, Geosynclines Denudation chronology Vulcanicity and Applied Geomorphology
When you read Climatology, it is essential to go through topics like Heat budget of the earth, Monsoons, jet streams, Air masses, frontogenesis, Weather and Climate, Atmospheric circulation, Categorization of the climates in the world by Trewartha and Thornthwaite, World's Temperature and pressure belts, Hydrological cycle, Kinds of precipitation, Global Climatic modification and the main role of man in a change of climates. Go through Applied Climatology and urban climate
Oceanography is one topic that has several important sub-topics such as Oceans' temperature and salinity, Marine resources like Biotic, Mineral, and energy resources. You should also know about the Atlantic's bottom topography, Indian Ocean, Pacific Ocean, Coral bleaching, change in sea level, and more.
While going through Biogeography, make sure you read the topics like Soil, Soil erosion, Genesis of soils, issues of deforestation and conservation the forests, Social forestry, Wildlife, soil categorization, agro-forestry, Attributes that impacts the distribution of flora and fauna in the world, Degradation, and conservation.
Likewise, Environmental Geography has some important topics like Global and regional ecological transformation and imbalance, conservation and management of Ecosystem, Adaptations of Human Ecology, Man's influence in Ecology and Environment, Degradation, conservation, management of environment, Ecology principle, Environmental Policy and Biodiversity and sustainable development  Environmental hazards and remedial measures along with Environmental education and legislation.
Human Geography preparations should start with Human Geography's perspective, Environmentalism, location analysis, Region synthesis, Areal differentiation, radical, human and welfare approaches, secularization, and religions. Some of the important topics are the Human development index, language, and cultural regions in the globe.
While learning for UPSC exams, it is all about choosing the right decisions and dedicate your whole time to preparations. One of the most important decisions you will make is selecting the optional subject. In this article, we have provided all the information about Geography optional subject.  Geography is very popular optional and at least three thousand candidates will choose this optional every year.
There are several reasons which necessitate the candidates to select Geography. From success rate to topic overlaps, you can find a lot of reasons. Though there are numerous benefits in choosing Geography optional, you will also be aware of the cons while choosing Geography. If you prefer the previous year's question papers, you will get to know that Geography is unprecedented as there issues and theories are asked. You should also prepare beyond the available books and study materials.
If you are just starting out, then you should utilize NCERT books from the sixth to twelfth standard for proper preparations. It is the basis for your learning so you should be well aware of all the topics in NCERT books and you can utilize the old books. Make use of atlas as it completes your  Geography preparations and it plays a crucial role in your learning.  Geography is a static subject but the application is everchanging which makes it an evolving subject. Regularly go through newspapers and magazines for better learning.
That's all about the Geography optional books and preparations. All the best for your preparation!!
List of Top Coaching Institutes in Other Cities –
List of Best Coaching Institutes in Others-