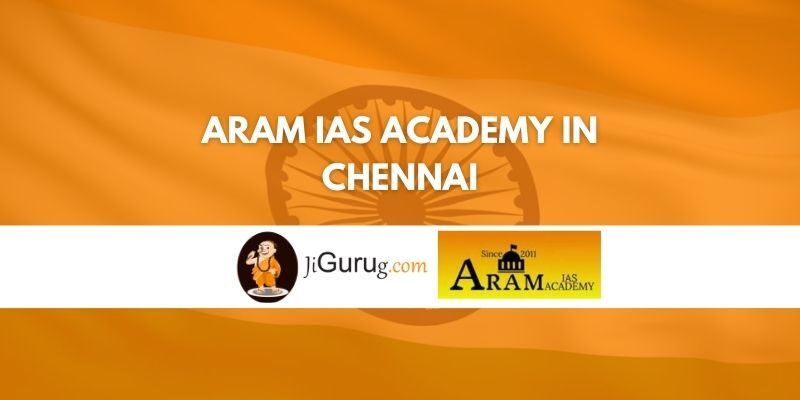 Aram IAS Academy in Chennai Review
Aram IAS Academy Course Offered –  UPSC & IAS Coaching
As one of the country's leading elite jobs, Indian Civil Services tests not only the expertise of a candidate but his / her character as a whole.
Recognizing this need, we provide aspirants with a value-based education system at Aram IAS Academy to allow them to fulfill their dreams. Our humble journey began in 2011 and the number of aspirants from the Aram IAS academy clearing the distinguished exams has been gliding up with each passing year. Our success is attributed to the highly experienced and devoted faculties who hail from a good spectrum of disciplines. Most of the schools at Aram IAS academy also are proficient authors who have published books of outstanding quality.
Aram IAS Academy Contact Details – 
Address: C-40, 1st & 2nd Floor, 2nd Ave, Anna Nagar West, Chennai, Tamil Nadu 600040
Contact number: 089396 96868
Email – [email protected]
Google Rating: 4.7 out of 5 stars (137 Google Reviews)
Features of Aram IAS Academy –
Faculty: Well trained and experienced faculty team. Some of the faculty members are Vikranth Raja, Rajaganapathy Sir

Past year result: No results updated on their website
Study materials: The study material of Aram IAS Academy is having IAS Coaching Notes, IAS Exam Preparation Booklets, IAS optional coaching Notes, UPSC Coaching Notes
Test series: Frequent retrieval improves retention. That is, when something is repeatedly retrieved after knowing it, its retention can increase for …
Infrastructure: The infrastructure of Aram IAS Academy is good and well maintained and the condition of the classes is also very good.
Fee structure: The fee structure of the academy for IAS Target Batch is Rs. 20,000/-
Batch size: The batch size of the academy is not so large. There are about 60 students in one batch
Benefits of Aram IAS Academy- 
Assured personal attention during the course to give the candidates a hand to succeed in the exam.
Fully revamped and modified Appropriate Research Materials that only integrate UPSC-relevant content (research booklets, class discussion handouts for all subjects, usually studies).
Orientation class and private instruction for optional subjects, so you select the right optional option according to your talent and interest.
Review of Aram IAS Academy
niyazfathimamohamed 30 – Best platform for upsc aspirants, especially freshers. Personal mentoring is available at any time. All the staffs are very humble and down to earth. . Cost to benefit ratio is very high in this institute. . Teaching is excellent and staffs are giving major strategies for preparation …strongly recommended
Priyanka V – Correct place to start upsc preparation..experienced mentors and individual attention to each students… feasible fee structure for every students.
Vishwapriya Chandrasekaran – One of the best IAS academies in Chennai for an excellent UPSC Coaching. The regular offline tests, online test availability, study materials aid and supportive staff are very impressive. I would recommend ARAM if you're looking for the finest Coaching centre in Chennai.
Frequently Asked Questions About Aram IAS Academy:
Q. How is the infrastructure & environment of Aram IAS Academy?
Ans. The infrastructure of Aram IAS Academy is very well and the environment is very calm and a student can easily concentrate on their studies in this environment, the teachers are very cooperative.
Q. Do Aram IAS Academy provide tips & tricks beyond the syllabus to score better?
Ans. The Aram IAS Academy provides tips and tricks for the students beyond the syllabus so that the students can score better and good marks in the exams, and can easily clear their exams.
Q. Aram IAS Academy providing any study material? 
Ans. Yes, Aram IAS Academy provides the study material with the latest updates.
List of Best Coaching Institutes in Others-
List of Top Coaching Institutes in Other Cities –