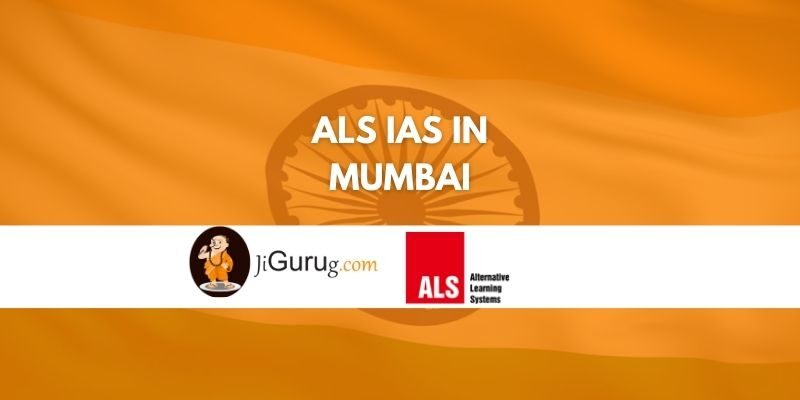 ALS IAS Coaching in Mumbai
ALS IAS Coaching in Mumbai, is one of the most reputed colleges. whose sole aim is to initiate and train the Civil Services aspirants. ALS IAS Coaching is developing its students with full speed since many years.
the institute encourages creativity, critical thinking and effortless learning methods. all these aspects are make sure to be developed at ALS IAS Coaching in Mumbai. India's top class faculty is here available under the one roof. students don't need to search for any other option.
the institute is the all in one package for the students. where they can learn many new ideas along with their studies. they are provided with the best mentor guide who are there with them throughout the entire course.
ALS IAS Coaching Contact Details –
Address: 1. XIE Center for Advanced Learning Xavier Institute of Engineering, opposite S.L.Raheja Hospital, Mahim West, Mahim, Mumbai, Maharashtra 400016
Address 2. ALS IAS, Ground Floor, 'B' Anant Laxmi Building, Dada Patil Marg, opposite Waman Hari Pethe Sons B-Cabin, Thane West, Maharashtra 400601
Address 3. DN Nagar Rd, Shitladevi Chawl, D.N.Nagar, Andheri West, Mumbai, Maharashtra 400058
Phone: 81693 16603, 98926 26111
Email: [email protected]
Website – http://www.alsias.net/best-ias-coaching-in-mumbai
Features of ALS IAS Coaching in Mumbai –
Faculty: 
India's best faculty members
Highly experienced
Past year result:
Claims to get 20 ranks in top 100 every year
Brilliant results
Study materials:
Best study material provided
Full syllabus coverage assurity
Test series: 
Well designed test series
Surprise tests of 10-15 min duration
Subjective & comprehensive tests are also taken
Infrastructure: 
Safe environment in the campus
Hostels are provided
Cafeteria is also included
Review of ALS IAS Coaching in Mumbai 
Ridhii Choudhary – ALS is one of the best UPSC Coaching institute in mumbai. The faculties are highly qualified and experienced. One of the best thing is there weekly test and revision classes.
Himani Singh – The best UPSC Coaching one could opt. The teachers are handpicked and have achieved zenith in their domain, the competition is mind blowing and most importantly the way of teaching is extraordinary.
No second thoughts if you want to join!
shivanya gupta – ALS is one the best IAS coaching institute in Mumbai.The teachers are highly qualified and experienced. The best thing is that there study material is up to date according to the latest exam pattern.There doubt clearing sessions are fantastic and very helpful.
nibin jose – In ALS IAS , the classes are taken in very simple language . Any ordinary or average student can follow the class. But at the same time , the standard at which they teach is very high.
All the faculties are highly qualified and experienced. The study materials are thousand time better than the study materials available any where in india.
Benefits of ALS IAS Coaching in Mumbai
Quality study material is provided to the students.
Interview training sessions are given by experts in the industry.
Extra doubt clearing classes.
The top-class infrastructure provided at the institute.
Online lectures are also provided for students who cannot attend the classroom courses.
Frequently Asked Questions About ALS IAS Coaching in Mumbai:
Q. How is ALS IAS Coaching in Mumbai different from other institutes?
Ans. ALS IAS Coaching in Mumbai, constitutes of the top class expert faculties from different place in India. all those institutes are highly qualified and very dedicated towards their profession and work.
Q. Why should students join ALS IAS Coaching in Mumbai?
Ans. The students can trust ALS IAS Coaching in Mumbai, as they claim to secure 20 AIR ranks every year which is very true. the past results of the institute are very mysterious and really appreciable. so students who want to crack the UPSC exams can join this institute.
Q. Do they provide hostel facility at ALS IAS Coaching in Mumbai?
Ans. The hostel facility is provided at ALS IAS Coaching in Mumbai. which includes 24 hours electricity and CCTV cameras installed for safety purposes, which is a very great facility.
Q. How is the teaching method at ALS IAS Coaching in Mumbai dissimilar than others?
Ans. The teaching at ALS IAS Coaching in Mumbai includes well designed course plans, detailed analysis of past year papers, individual guidance, punctuality, develop positive behavior and many more strategies which make the institution out stand from others.
List of Top Coaching Institutes in Other Cities –